The Web site of Sayres and Associates was offline Tuesday, just days after news broke that the firm had parted ways with Aaron Barr, Anonymous's most famous victim. The reasons for the site's disappearance, and for Barr's departure are unclear.
The site, sayresandassociates.com, could not be reached Monday and early Tuesday, though the exact reason for the blackout was unclear. There was no indication from Anonymous or related groups that Sayres was the target of a denial of service attack, though the blackout comes shortly after the firm parted ways with Aaron Barr, the former CEO of HBGary Federal, who served as Sayres head of Cyber Security.
The firing and subsequent outage are just the latest wrinkle in a saga that began around a year ago, after Barr told a reporter for the Financial Times that he planned to identify members of Anonymous's leadership using an analysis of social media and other open source intelligence. That claim prompted an immediate retaliatory hack that resulted in the theft of tens of thousands of company e-mail from HBGary and personal attacks on Barr's online accounts, as well. Within days, Barr, himself, had stepped down from his position at HBGary Federal.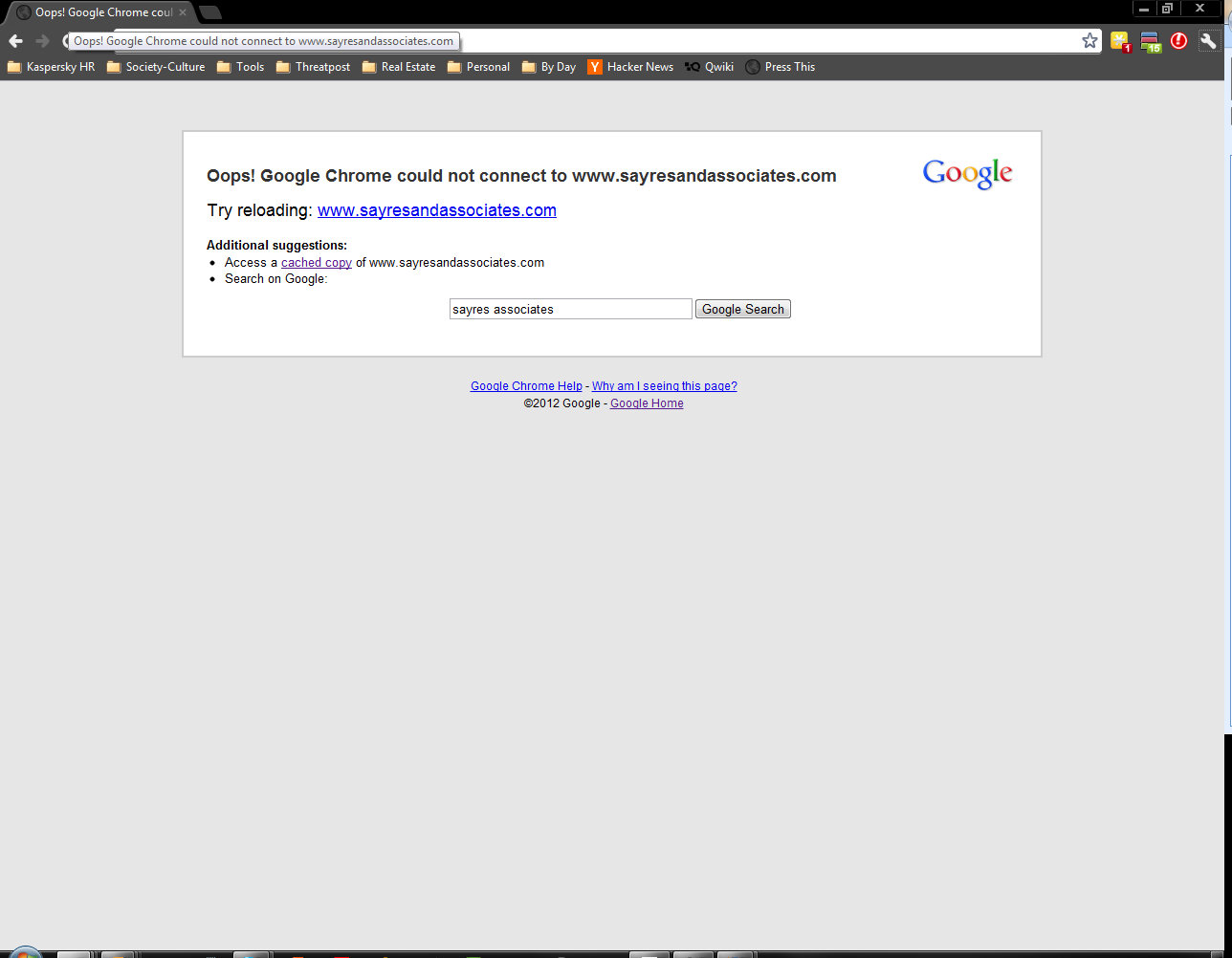 Since joining Sayres as Director of Cyber Security, however, Barr had kept up his work on social media and its application for law enforcement and intelligence work. He popped up at the Occupy Wall Street protests, ostensibly to observe what was going on. He was on hand at an FBI-sponsored event in New York City in January to talk to law enforcement officers about how to use social media and open source data for investigative work.
According to Sayres founder, John Sayres, Barr's activities were increasingly out of step with the company's core mission. Sayres when Barr parted ways with Sayres, where he had worked since June. The exact reason for the split is unclear, but Sayres and Associates founder John Sayres went public with the news, calling Barr a "cowboy" in an interview with The Huffington Post, and saying his continued pursuit of the hacking group Anonymous was out of step with Sayres' mission. Barr confirmed he is is no longer employed by Sayres, but said he has found other employment.
As of Tuesday, it was unclear whether Barr was let go, or left on his own only to be served a helping of sour grapes from his former employer. Sayres did not respond to requests for comment. In the meantime, Sayres' Web site was unreachable on Monday and Tuesday for reasons that were unclear. Anonymous did not take credit for an attack against Sayres. However, onetime Anonymous spokesman Barrett Brown did use his Twitter account, on Friday, to tell the company that "We're not after you. I just want to talk to John (Sayres) via phone at his convenience."
One source, who asked not to be named because he was not given permission to speak publicly, said that the firm, which provides professional services to government agencies including the Department of Homeland Security, Department of Defense, Department of Transportation, and others may have taken down their Web site voluntarily after news of Barr's firing began to get attention online.