An Airbnb "superhost" in China has been arrested after a guest staying in his house found a hidden camera recording her in the bedroom.
The guest, an unnamed woman who was staying in the Airbnb in eastern China last week, said she discovered the camera after spotting a light that looked unusual in the Wi-Fi router, according to local reports.
The unfortunate guest told local news outlets that she worked in information security, and so was more vigilant than the average person when it came to always checking her hotel rooms for signs of surveillance devices. After inspecting and unscrewing the router, the guest found that there was a digital memory card inside.
"I checked [the router] carefully and found the line arrangement was different from the usual ones," the woman told Beijing Youth Dailyin a recent interview. The guest then called the police, who found that the host had been filming guests since March, and arrested him.

Airbnb did not respond to a request for comment from Threatpost. The home-sharing platform told Beijing Youth Daily that it removed the flat from apartment listings.
However, the incident is making potential Airbnb users nervous – especially because the man was an Airbnb superhost, a title given to hosts who, in Airbnb's words, are experienced and seen as "a shining example for other hosts."
This is disturbingly only the most recent horror story of traveling guests reporting that they were recorded. In March, Seoul police arrested four people who allegedly filmed about 1,600 motel guests in the past year in various states of undress and having sex. They did so with tiny wireless spy cameras set up in 42 motel rooms at 30 motels across South Korea, in 10 cities. The devices were hidden inside TVs, hair dryer holsters and electrical outlets.
Also in March, an Airbnb guest in Miami found hidden cameras in his room, while in April, a New Zealand family discovered that their Airbnb host in Ireland was recording – and also livestreaming – footage of them.
Airbnb has policies in place about electronic surveillance devices: Hosts must indicate the presence of any surveillance camera in their home, whether it is recording actively, or even if its not turned on or hooked up. A surveillance camera includes Wi-Fi cameras (including Nest Cam), nanny cameras, web cameras or baby monitors.
"If a host discloses the device after booking, Airbnb will allow the guest to cancel the reservation and receive a refund. Host cancellation penalties may apply," according to Airbnb's policy.
Even so, a recent survey found that 58 percent of Airbnb guests worry about hidden cameras inside their rooms – and that fear appears to be well-founded. A full 11 percent said they have actually discovered a hidden camera in their Airbnb.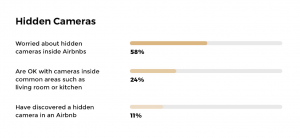 Jeff Bigham, a computer-science professor at Carnegie Mellon, urged Airbnb guests to properly check their rented home for surveillance devices in a recent outline of his own experience with a live camera in an Airbnb he stayed in.
"As Wi-Fi cameras spread, and at least some people find them to be no big deal, I'm worried what it will mean to consent, to be recorded by them," he said. "In the online world, companies put up long, complex terms of service that no one could possibly read. Will we be expected to review similarly complex documents/photos every time we enter a physical space? How can we avoid the illusion of consent that we currently have in the online world?"