Mobile operating system Android received a big security makeover Wednesday with the introduction of Google Play Protect. At Google I/O, Google's annual developer conference, the company teased a major update to its security platform that consists of a mix of new features, a rebranding of existing ones and UI enhancements that will now live under one security umbrella called Google Play Protect.
New parts of Google Play Protect, according to Google, include the ability to manually scan previously downloaded apps in order to check if they are still safe. This combats the problem of Android apps that install as benign and later download malicious components. It also addresses apps downloaded from third-party app stores that aren't subject to Google's automated malware scanner Verify Apps, part of the Google Play app store.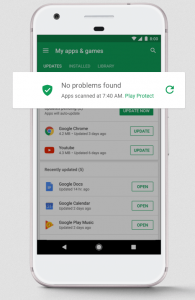 Google has not released any technical details of the new service. According to the company, the service will "roll out over the next few weeks" to all Android devices running the Google Play app.
In a blog post describing the new service, the Android security team wrote: "Play Protect is built into every device with Google Play, is always updating, and automatically takes action to keep your data and device safe, so you don't have to lift a finger."
According to the Help description of the service, Play Protect "periodically scans your device" and will alert users if an app has been removed because it was labeled dangerous.
Rebranded as part of Google Play Protect are a number of existing Android security features, chiefly Android Device Manager, now called Find My Device. Find My Device offers an fresh user interface for Android Device Manager and adds new features, including the ability to remotely lock a lost device. Android Device Manager and was released in 2013 and was criticized for not having some of the same features as Apple's Find my iPhone such as Activation Lock. That feature allowed iPhone owners to lock a lost phone, without erasing the data on it.
"You can locate your device by signing into your Google account, or even call it directly from your browser. Lock your phone remotely or display a message on the lock screen, so if someone finds it they know who to contact. If you're convinced it's lost for good you can erase all your data," according to Google. Find My Device can be downloaded starting this week.
Google claims there are more than two billion active Android devices and that Play Protect will scan and verify up to 50 billion of apps per day.