The National Telecommunications Commission (NTC) of the Philipines has asked for assistance from law enforcement after a handful of government sites in the country, including the NTC's site, were brought offline this morning in a hack allegedly carried out by PrivateX, an offshoot of the hacktivist group Anonymous.
The NTC has asked the Philippine National Police and its Criminal Investigation and Detection Group (CIDG) for help preventing future similar attacks, according to a report from the nation's ABS-CBN news outlet earlier today.
"It is very difficult to prevent a repeat of this but we are coordinating with the CIDG for assistance both in investigation and protection of our websites,"Carlo Jose Martinez, the NTC's Deputy Commissioner told ABS-CBN.
The hacking group also claims to have taken down a slew of other government sites, including the Philippine Information Agency and the Food Development Center in an attack the hackers have dubbed "Bloody Monday," on Twitter. Other domains, including sites belonging to the Philippines Department of Health, Nuclear Research Institute and Department of Science and Technology were also targeted.
While some of those sites were back online late Monday, many, including the NTC's remain still offline. Affected sites are displaying a spinning Anonymous emblem and are configured to play "Freedom," a protest-song-of-sorts by the '90s rap-rock band Rage Against the Machine.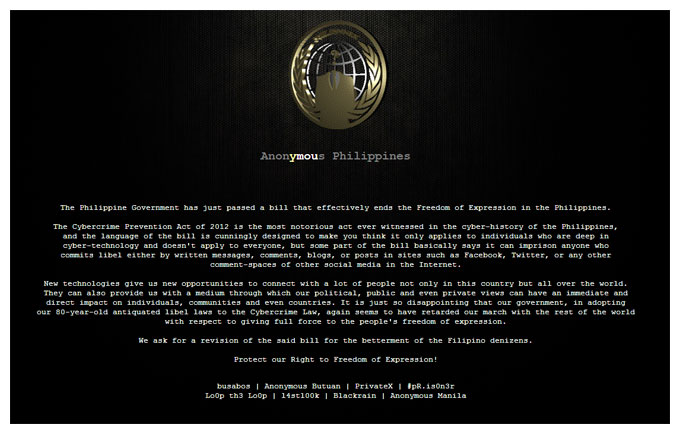 The hacks appear to have been done in protest of a new cybercrime law that aims to crack down on Internet users in the Philippines who post libelous comments on Facebook, Twitter or in the comment sections of blogs. Set to be implemented tomorrow, the Cybercrime Prevention Act of 2012 (Google Docs) could impose up to a 12-year jail sentence and fine of one million pesos ($24,000) for those who post libelous comments online while newspaper editors and other trained professionals could face four years in jail and a 6,000 peso fine.
In Manila today, Justice Secretary Leila de Lima claimed the law will be put into practice unless declared unconstitutional by the republic's Supreme Court.
"We ask for a revision of the said bill for the betterment of the Filipino denizens," reads part of a statement on the NTC's hacked site.