From IDG News Service (Sumner Lemon)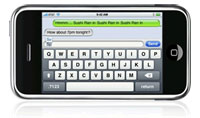 Apple is working to fix an iPhone vulnerability that could allow an attacker to remotely install and run unsigned software code with root access to the phone.
The attack in question exploits a weakness in the way iPhones handle text messages received via SMS (Short Message Service), said security researcher Charlie Miller, during a presentation at the SyScan conference in Singapore on Thursday. He didn't provide a detailed description of the SMS vulnerability, citing an agreement with Apple. Read the full story [Yahoo News].