In what may be the least surprising news of the day, Facebook is again making changes to its privacy controls.
The existing privacy controls, which we explored in depth in our How-To Video on the subject, are a bit convoluted. So it makes sense that product manager Samuel Lessin is rolling out some end-of-the-year privacy feature updates on the world's largest social network that are essentially designed to clarify existing features and seamlessly integrate privacy controls into Facebook's primary interface.
However, amidst a number of updates that Lessin claims will help users better manage their content, Facebook will also retire the "Who can look up my timeline by name?" feature. They claim that the setting was "very limited in scope, and didn't prevent people from finding others in many other ways across the site" and used by a small percentage of users. In reality, the feature represents one of very few strong privacy controls remaining on a social network considered by many to be the antithesis of privacy.
Lessin writes that his main goals are to bring the network's privacy controls directly to the places where users are sharing information, to provide users with education and awareness about where and what information appears when they post, and to supply users with tools so they can avoid any content they don't like.
The update will include privacy shortcuts that can be accessed in the top right of any logged-in users homepage, between a user's name and the settings tab (pictured below). The principle change is that users will no longer have to access their Facebook setting to make simple privacy decisions. They'll be able to decide "Who can see [their] stuff," "Who can contact [them]," "How do [they] stop someone from bothering them," and access the Help Center directly from their home screen.

They are also adding a request and removal tool that will supposedly make it easier to manage multiple photos in which users are tagged. The problem here is that a user will not simply be able to remove undesirable photos if they were uploaded by another user. The feature merely makes it possible for a user to request that another user remove a photo or multiple photos. But rest assured, because "you can even include a message about why [removing the photo or photos] is important to you."
There will also be new, "in-context" reminders to explain things that are hidden from a user's timeline may still appear in news feeds, search, and other places.
Other aspects of the update include changes in app permissions that will give users more freedom to decide which of their personal information is available to the application, though Lessin notes that not all apps, games in particular, will adhere to the new model. They will be updating the Activity Log so users can easily review their activities on the site and sort through information they have posted there.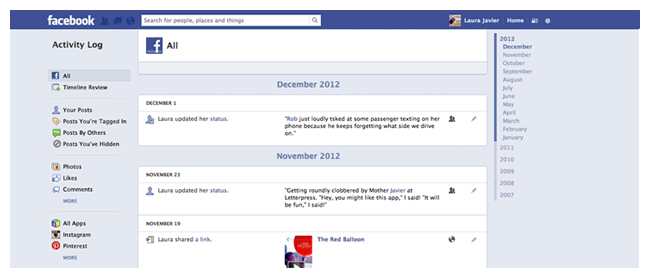 We reached out to Facebook's press office inquiring about what effect these changes would have on existing, custom privacy settings, but they had not yet responded at the time of publication.