Fake antivirus software, or "scareware" scams have been one of the tried and true methods that crooks have used to make illegal profits online in recent years. The scams often offer convincing replicas of legitimate anti malware software to trick users into installing malicious programs that can steal sensitive information or encrypt hard drives and extort money from the owner to decrypt the data.
Windows systems have been the target of choice for scareware scams. But now, with the explosion of mobile device use, Kaspersky Lab researcher Denis Maslennikov says that online scam artists have begun targeting users of Android mobile devices with similar offers of phony virus scans and bogus antivirus software. Writing on the Securelist blog, Maslennikov says that Web searches for popular mobile applications, such as the mobile version of the opera Web browser, have turned up scam Web sites offering "free" virus scans of mobile devices, including Android.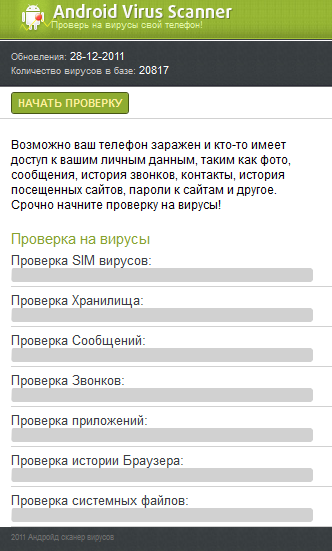 As with scareware scams aimed at Microsoft Windows users, the results of the free scans are predictable.
"Both web pages claim that the user's device might be infected and that somebody has access to personal data and then will ask the user to check his or her device for malware."
A scan of the device returns hard-coded "positive" results and encourages the mobile device user to "activate" security protections on their device by clicking on a link in the scan results. Clicking that link downloads and installs a malicious application that Kaspersky detects as Trojan-SMS.AndroidOS.Scavir for Android.
Attacks against mobile devices have become more common as users shift their preferences from desktop and laptop computers to mobile phones and tablets.
Read more about rogue antivirus scams for Android devices on Securelist.