A fake version of the popular Camera+ iPhone application was offered on Apple's App Store over the weekend, according to a post by Glyn Evans on the iPhoneography blog on Saturday, just the latest example of suspicious and malicious applications to slip through Apple's shadowy application vetting project.
The fake application, uploaded by the development shop "Pursuit Special," was apparently removed from the store shortly after it was discovered, yet its mere presence in the first place was enough for some critics to call attention to Apple's app store approval process.
Tap Tap Tap, the company behind the real Camera+ application has seen the popularity of its product surge since Apple released the iPhone 4S in October. Sales of the application have totalled over $5.1 m. to date, with someone buying a copy of Camera+ every three seconds, according to a blog post earlier this month.
The creators of the impostor Camera+ application aimed to exploit its rampant popularity as of late, though its not clear whether or not the bogus application was malicious, or just a stand-in designed to generate sales.
"Oh, Apple and your all too often disappointing approval process" Tap Tap Tap tweeted on Saturday.
While Google's increasingly-lax app store has seen its fair share of fake apps over the last year or so (counterfeit versions of Cut the Rope and Angry Birds popped up and deceived customers last month) It remains to be seen if Apple's app store, which inspects each app before its uploaded, will follow suit or if this just happens to be a one-off gaffe.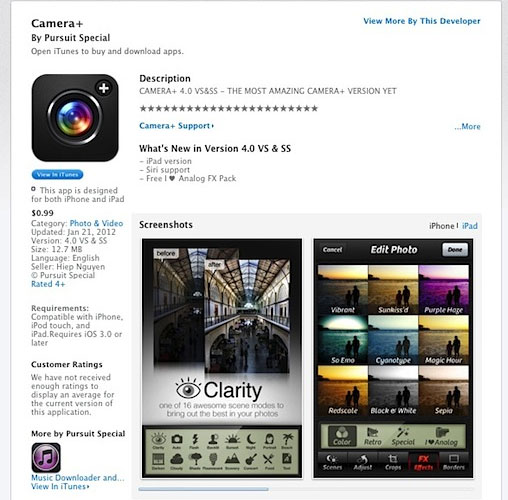 (A screenshot of the fake Camera+ app available in Apple's app store Saturday)