Hoping to ramp up privacy on mobile devices such as smartphones and tablets, the Federal Trade Commission (FTC) has released a series of suggestions to help app developers, advertising networks and device companies better protect their users online.
As it's done over the last two years with browser security, the FTC is looking to get companies, particularly those that work in the facilitation of users' personal information, to clamp down.
While the thirty-page document "Mobile Privacy Disclosures" (.PDF) isn't compulsory and doesn't call out any specific companies it does strongly encourage industry-wide "trust through transparency."
Much like it advocated for desktop browsers in December 2010, a Do Not Track (DNT) mechanism – to help users prevent being tracked by advertising networks and other third parties – is now being proposed for mobile devices by the agency.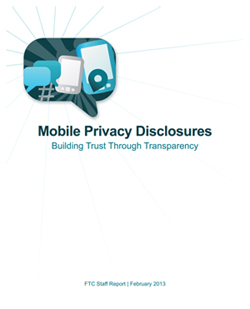 In addition to the DNT mechanism, the FTC is urging smartphone companies to develop a "just-in-time" disclosure notification it could push to users immediately before they give away sensitive information like their location.
Ideally, users should also be able to review the types of information each application on their device can access in a one-stop "dashboard."
"A dashboard provides an easy way for consumers to determine which apps have access to which data and to revisit the choices they initially made about the apps," the FTC reasoned, adding that Apple has begun to address this with iOS 6's Privacy Settings Tab and Android with its Apps Settings section.
The document also encourages app developers to adhere to a readily accessible privacy policy if they haven't already, improve communication with ad networks and consider joining a regulatory organization to help refine privacy standards going forward.
The announcement follows a similar set of guidelines released to the public earlier this year by California's Attorney General Kamala D. Harris. In that report, Harris advocated certain ways technology companies like Google and Research in Motion could better handle their customers' data. Both announcements of course follow President Obama's "privacy bill of rights," an overarching agenda issued last year that detailed what consumers are entitled to expect when companies handle their personal information online.
While the FTC's most recent report is more of a call to arms for those in the mobile device industry than an explicit warning, the agency has shown it's not backing down. On Friday, separate from its announcement, the agency also issued an $800,000 fine to Path, the social networking app that was found harvesting user information around this time last year. This time through, the FTC claimed Path violated federal privacy protections by collecting information on children without their parents' consent. Path settled the charges and agreed to biennial privacy checks for the next twenty years, according to an FTC press release Friday. Path recognized its mistake in a blog post later Friday, acknowledging that the company hopes the experience can "help others as a reminder to be cautious and diligent."