As Game of Thrones' eighth season approaches, fans are getting ready for the ultimate clash of living vs. dead, fire vs. ice, human vs. monster. But they should be careful where they get their Jon Snow fix from; fresh analysis has concluded that the fantasy series is cybercriminals' favorite target for disguising malware in illegal content downloads.
Game of Thrones accounted for 17 percent of all infected pirated content that researchers with Kaspersky Lab tracked last year, with 20,934 users attacked – even though no new episodes were released in 2018. And it came in as the most-targeted show despite being only the eighth most-popular to illegally stream, according to researchers; it also didn't make the top 10 for torrent popularity.
"In many regions, popular programs are also consumed via illegal channels, such as torrent-trackers and unauthorized streaming platforms," according to a Monday report from Kaspersky Lab. "Unlike legitimate resources, torrent trackers and hosted files may prompt a user to download a file that looks like an episode of a TV show, but is in fact malware with a similar name."

Let's face it, getting something for nothing has a certain appeal. So while most people should know by now that downloading pirated content is a high-stakes game that can result in a massive cyber-infection for one's device, the reality is that tapping illegal markets for popular shows (especially those hosted on premium channels) continues to thrive as a practice.


The blockbuster HBO series is starting up again with its eighth and final season on April 14, and fans are a-twitter with anticipation. Not all of those fans have an HBO subscription however, so activity via pirate sites is expected to remain popular.
The danger lies not just with new episodes, either; binge-watching previous seasons before the premiere is a common activity as well. For example, the GoT Season 1 episode "Winter is Coming" is the most-targeted episode of the show, according to Kaspersky Lab's findings.
The firm is not expecting GoT's domination on the infected pirated content front to wane in 2019, either; malware is coming, so to speak.
"The first and final episodes, attracting the most viewers, are likely to be at greatest risk of malicious spoofing," said Anton Ivanov, security researcher at Kaspersky Lab, in the analysis. "Online fraudsters tend to exploit people's loyalty and impatience, so may promise brand new material for download that is in fact a cyberthreat. Keeping in mind that the final season of Game of Thrones starts this month, we would like to warn users that it is highly likely there will be a spike in the amount of malware disguised as new episodes of this show."
GoT is not alone in attracting demand for pirated versions (and therefore cybercriminal interest). The Walking Dead and Arrow were the next most popular pirated shows to be targeted by malware-pushing adversaries. In all, 18,794 and 12,163 users were attacked, respectively.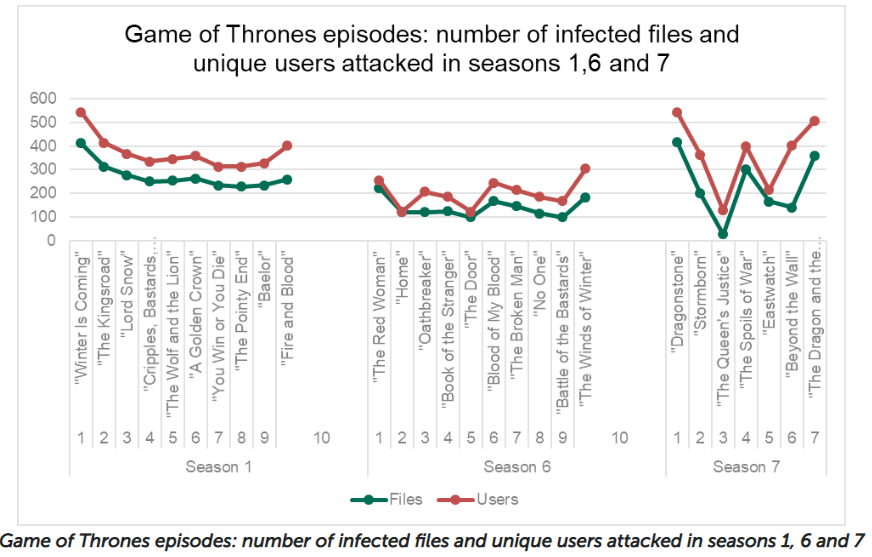 "We can see clearly that malware distributors exploit TV shows that are in high demand on pirated websites; these are usually actively promoted dramas or action series," Ivanov said.
The report found that a total of 126,340 users were attacked last year, which is actually one-third less than in 2017 (188,769). That decline is however smaller than in other segments; Kaspersky Lab said that, for comparison, users affected by malware delivered via other popular content, including porn, fell by 45 percent in 2018.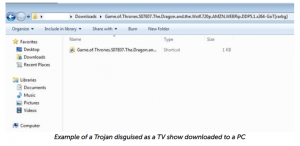 "Such a decline might be connected to some of this year's events potentially affecting the number of torrent file downloads," the report pointed out. "First, in 2018, Google downranked more than 65,000 torrent websites – major distributors of pirated TV shows – leaving great many users unable to find them when looking for TV series downloads. Active action against torrent websites does make a difference, more and more of them finding themselves blocked or troubled. For example, two major torrent trackers (Pirate Bay and Demonoid) have of late suffered functionality collapses, and one of the world's longest-standing ones, Leechers Paradise, was shut down for good."
To avoid falling victim to malicious files posing as TV show downloads, viewers should avoid pirated content altogether. If they must download files, viewers should ensure that these should have an .avi, .mkv or mp4 extension – not .exe.