China-based electronics company Xiaomi said it has fixed a "cache update" issue for its Xiaomi Mijia smart camera after a Reddit user claims that attempts to view Xiaomi camera footage on his Google Nest Hub instead showed videos of strangers.
The issue was first reported by a user on Reddit who owns a Xiaomi Mijia 1080p Smart IP camera. This security camera can be linked to the Google Nest Hub (Google's smart home display that allows users to integrate and view footage from their Nest camera devices and other third-party connected devices) if users integrate their Google accounts on Xiaomi's Mi Home application.
However, the camera owner, under the Reddit name "Dio-V,"  said that when he tried to view footage from his Xiaomi Mijia camera on the Google Nest Hub, he instead saw various pieces of random footage, including pictures of strangers' houses and even one that seemingly showed a man sitting on a couch (see image below).

Since the Reddit post came to light, "our team has since acted immediately to solve the issue and it is now fixed," the Xiaomi spokesperson told Threatpost. "Upon investigation, we have found out the issue was caused by a cache update on December 26, 2019, which was designed to improve camera streaming quality."
The glitch has "only happened in extremely rare conditions,"  the spokesperson told Threatpost. In this case, it happened during the integration between the Mijia security camera 1080p and the Google Nest Hub with a display screen under poor network conditions, the company said.
Xiaomi told Threatpost that at least 1,044 users were with such integrations and only a few with extremely poor network conditions "might be affected."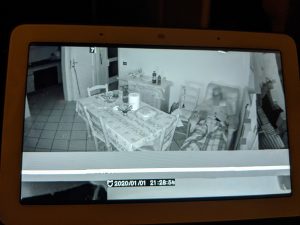 "Xiaomi has always prioritized our users' privacy and information security," the spokesperson told Threatpost. "We are aware there was an issue of receiving stills while connecting Mi [Mijia] Home Security Camera Basic 1080p on Google Home [Nest] hub. We apologize for the inconvenience this has caused to our users."
Google for its part said in a media statement it's shutting down Xiaomi device access to its Google Nest Hub until the issue is revolved: "We're aware of the issue and are in contact with Xiaomi to work on a fix," Google told media reports in a statement. "In the meantime, we're disabling Xiaomi integrations on our devices."
Connected cameras continue to post a major privacy issue for consumers. In 2019, Ring came under fire after several disturbing stories emerged of hackers hijacking Ring devices and stalking to strangers through them. Also throughout the year, several reports came out of webcams in Airbnbs and hotels being hacked to spy on hotel guests.