After months as a consumer-only beta, Google finally opened up its Google+ social network to companies this week, launching Google Brand pages. While response to the new brand pages was tepid (Robert Scoble penned a rather scathing review), it didn't take long for folks poking around the new feature to identify a serious shortcoming: Google brand pages allow pretty much anyone to stake out a page for any brand, regardless of their affiliation with it.
Faced with questions about the possibility of a muddy, confusing and dangerous landscape of real and phony brand pages, Google said on Wednesday that the company would be taking steps to shore legitimate brand pages associated with companies, while pulling lurker pages designed to mislead G+ users.
"We know that Well known brands top of the list for impersonation, so we'll be working with global brands to prevent that," a Google spokeswoman told Threatpost on Wednesday.
Google said it is already using its Verified Name badge verified name badge with some brand pages, including NBC News and Pepsi Cola. Unfortunately for firms concerned about impersonators, brand squatters and other online lurkers, Google is deciding on its own which brands it will extend the Verified Name badge to.
"It's not something that we offer. It's not something a company can apply for," said the spokesman.
Instead, Google said its working with companies that it has relationship with "on the sales side" to "make sure they do get verified." That initiative is starting with global brands but will "trickle down" to smaller firms, the spokeswoman said.
The search giant will use other means to match up Google+ brand pages with their proper owners, as well. For example, companies that deploy the Google+ badge HTML code on their Web site and link it to their brand page will make it easier to verify that a particular brand page is associated with the firm.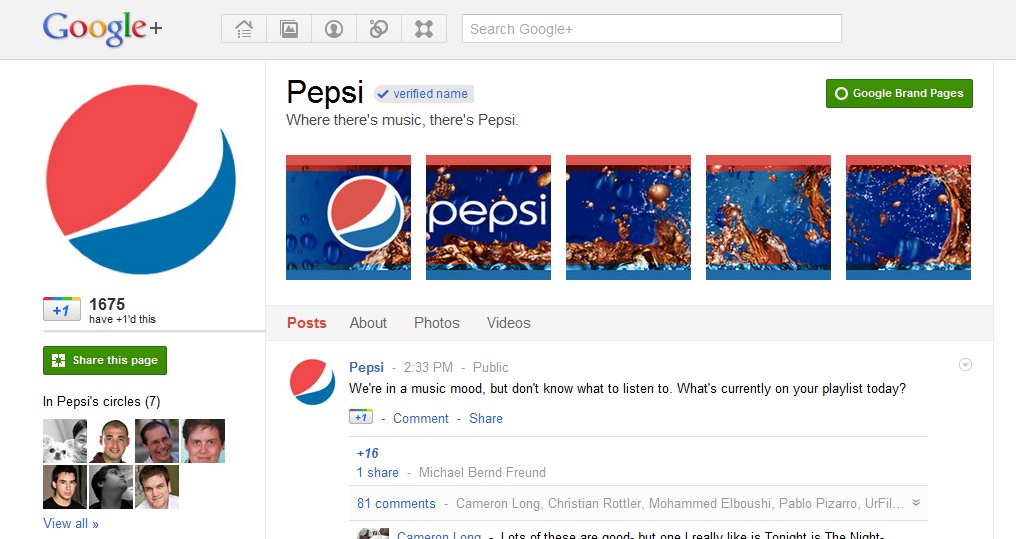 Observers have already noted that the current version of the G+ brand pages allow anyone to set up a page for any organization. Writing for ITWorld.com, Dan Tynan described his success creating a Google+ brand page for Disney Corporation, despite having no affiliation with that company. The page was still up on Thursday. Technology evangelist Robert Scoble of Rackspace Hosting has noted the brand squatting problem, among other shortcomings, and said that Rackspace has already spotted imposter pages.
The Google spokeswoman said that Google's abuse team will take down brand pages when its clear that their owner is trying to impersonate an organization or squat on a brand. But the company wants to leave room for fan pages and other kinds of brand tributes.
"If its a Pepsi fan page and they're not claiming they are Pepsi, that's something we'll likely leave alone."
Finally, Google will pay attention to abuse reports from companies and its user population to determine when brand pages have crossed the line. The company hopes the same tools it uses to monitor Web and e-mail based phishing attacks will help it keep phishing pages off its Google brand properties as well.
The Google spokeswoman wouldn't say how many brand pages have been set up, besides noting that the reception has been "great." Others, including Scoble of Rackspace, have begun tracking many of the new brand pages, including those for The New York Times, Toyota USA, and The Dallas Cowboys football team. Many sport Google Verified Name badges, though notable sites, including one for The Today Show, a morning news television show, do not.