Google has divulged more information about its forthcoming application verifier for the Android operating system. The feature is being rolled out over the air alongside the latest build of the OS, Jelly Bean 4.2, on Nexus 7 and Galaxy Nexus devices as of yesterday.
While it can be disabled, the app verifier feature is turned on by default according to a new description from Google/Nexus that describes the process as follows:
If users attempt to download and install an unsafe app, they'll see one of two notifications warning them the app is either potentially dangerous – recommending they cancel installation – or informing them the app is dangerous – blocking installation.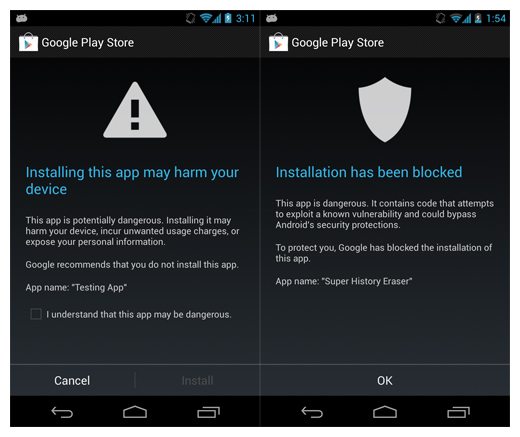 The description mentions that by allowing Google to verify your applications, the company will receive information from your phone including URLs related to the app along with general information about the device, including its ID, the current build of the operating system, IP addresses and cookies.
Users can reach the new verifier, which analyzes apps from all app stores, even those not found in Google's Play store, by clicking Settings > Security > Verify apps.
Users wishing to sideload apps from third-party app stores without Google analzying them will simply need to turn off the service.
Google announced the verifier, along with other security plans for 4.2 late last month but it wasn't until yesterday that one of the company's Android developers, Michael Morrissey, highlighted an expanded description of the service in a post on Google+.
It still appears unclear if or how Google's acquisition of VirusTotal earlier this fall, feeds into Android's new app verifier. Despite being obtained in September, the online virus scanning company claimed it would continue to operate independently.