Puppy photos are undeniably irresistible but beware; researchers have uncovered a scheme selling fake German Shepherd puppies for Bitcoin, leaving buyers crushed and without a tiny fuzzy friend to cuddle on Christmas morning.
The scam was discovered by an intrepid researcher at Anomali, who got wind of the fake puppy offer and decided to investigate.

"When one of our researchers heard about this con, he dug deeper into it," Gage Mele, researcher with Anomali, told Threatpost. "Because consumers are last-minute shopping ahead of the holidays and continuing to buy pets at a higher rate due to COVID-19 shelter-at-home restrictions, we issued a consumer alert."
The scammers have been operating since Nov. 2018, according to the Amomali report, but have ramped up their efforts in advance of the heavy online holiday shopping season. The report said they found 17 websites linked to the group selling birds, cats and essential oils.
Puppy Scam
Once the scammers lured victims into their online stores, they asked for non-refundable deposits through methods like Bitcoin, PayPal, Zelle and others, and then failed to deliver the goods.
Researchers were tipped to the fraud in early December, the report said. The suspicious site, darlinggermanshepherds[.]com, was not terribly sophisticated, according to researchers, and advertised German Shepherds for sale. The sites used images sourced from old, abandoned websites that helped make them look unique.
Anomali was able to link this site to others because they shared nearly identical or even straight copy-and-pasted testimonials.
"My husband races motorcycles and we take Kahuna with us, even with all the commotion, people and engines, he just sits on his stand basking in the sun on one foot," one of these testimonials read, across three scam sites, the report said.
"Online scammers typically leave a trail of clues scattered throughout the websites they operate, emails they send, and posts on social media," Mele said. "This is only a single example of countless fraudulent activities taking place online. It is especially noteworthy as it shows that even sloppy perpetrators can mislead consumers."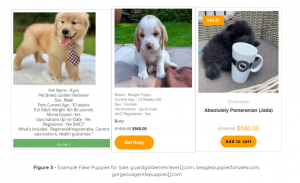 Another Fake Puppy Fraud Reported
Earlier this month, the U.S. Department of Justice brought charges against a Camaroonian operator, Desmond Fodje Bobga, in a Pittsburgh federal court for a similar puppy scam. The allegations against Fodjie Bobga include wire fraud, forgery and aggravated identity theft.
"Unfortunately, the pandemic has created the perfect condition for unscrupulous pet sellers to thrive," FBI Pittsburgh Special Agent in Charge Michael Christman said.  "This suspect exploited this website to sell puppies and capitalized on people looking for companion animals online during this difficult time."
Fodjie Bobga, much like the other puppy scam, would offer dogs and other animals for sale, collect a deposit and set up a fake delivery. The fake transport company would contact the victim and tell them that due to COVID they needed to pay additional money for delivery.
But the fraud continued to get more brazen from there, according to the DOJ statement.
"More recently, Fodje Bobga and the co-conspirators told some victims that they needed to pay even more money for delivery because the pet had been exposed to the coronavirus," the statement explained. "The perpetrators used false and fraudulent promises and documents regarding shipping fees and coronavirus exposure to extract successive payments from victims."
The criminals would then generate fake documentation to keep the fraud going, including a vaccine guarantee from the U.S. Supreme Court.
"Among the fake documents were a 'refundable crate and vaccine guarantee document' that purported to have been issued by the 'Supreme Court of the United States of America" and bore the seal of the court, along with the signature of a Clerk of the Court," the DoJ said. "After Fodje Bobga and the co-conspirators received money directly and indirectly through wire communications from the victims, Fodje Bobga and the co-conspirators never delivered the pets."
Avoid Online Scams
Whether its puppies, essential oils or anything else, experts warn it's critical to confirm the identity of any online seller before sending them payment.
Amomali's recommendations include verifying a name, address and phone number of the seller, looking for sloppy typos on seller sites and being suspicious of prices that seem too good to be true.
For the more technical set, Anomali advises checking the domain creation date.
"It is especially suspicious if the domain was registered this year, but has a copyright footnote with a 2015 timestamp," the report said.
Anomali also advised the more tech savvy online holiday shoppers to do a reverse search on the site's images and checking the HTML code for connections with other known suspicious domains.
"Advanced site builders might have matching tags such as Google Analytics ID. Basic fraud sites…often have metatags copied from another domain," the report added.
Mele told Threatpost he hopes the report will help everyone be a bit more careful shopping online, particularly during the busy holiday season.
"Everyone who shops online needs to be aware of the fact that cybercriminals are on the prowl and looking to take advantage of anyone they can lure in," he said.
Download our exclusive FREE Threatpost Insider eBook Healthcare Security Woes Balloon in a Covid-Era World , sponsored by ZeroNorth, to learn more about what these security risks mean for hospitals at the day-to-day level and how healthcare security teams can implement best practices to protect providers and patients. Get the whole story and DOWNLOAD the eBook now – on us!