From Just Ask Gemalto (Dennis Fisher)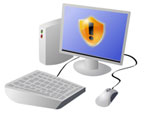 Computer users have been conditioned over the last few years to recognize and avoid many of the more common scams and threats on the Internet: email viruses, phishing, spam, Nigerian 419 ploys and work-at-home money-mule schemes. You know that an email promising funny pictures of Britney Spears is probably more likely to install malware on your machine than to brighten up your day with more of Britney's zany antics.
But as much progress as we've made in educating users about online threats, there are some newer scams out there that take advantage of the fact that users have been trained to pay attention to the security software on their PCs and do it what it tells them. Known as scareware, these scams are designed to trick a user into thinking that they have a virus or piece of spyware on his PC, and then preys on the user's fear to entice him into downloading a piece of malicious software masquerading as antivirus or antispyware software.
Read the full story here.