Today's image of the day comes from a video posted by New Scientist magazine that helps illustrate an attack between a server and a hacker.
Created by Ben Reardon of Dataviz Australia, the video chronicles a hacker's attempt to break into a voice over IP (VoIP) server. As we've seen, servers like these can be prime targets for hackers via denial of service (DoS) attacks and scans like the one visualized here. In this case, the outcome was a good one: the attack was thwarted by security software.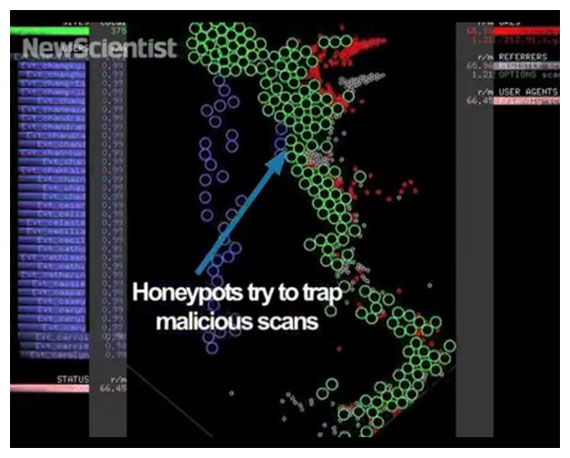 Honeypots are released to protect sensitive information from being compromised
In a screen cap from the video, we can see users trying to make a call, represented by the sequence of blue bubbles coming from the left side of the screen. Above them, a flurry of green bubbles, honeypots, can be seen spilling out to protect the server and its users.
As the honeypots move to the right, they try to trap the hacker's attack – symbolized by intermittent streams of red and white bubbles. As the video plays out, the hacker ups his attack frequency but just can't handle the server's defense.
Head over to NewScientist.com to watch the video.