When it comes to what we can expect with 5G mobile networks, they promise a more IoT friendly ecosystem, with vast improvements over the current capabilities of the 4G. Providing ultra low-latency and exponentially faster throughput (along with sensors that will boast a 10-year battery life) 5G paves the way for new enterprise use cases and applications, including remote telesurgery, self-driving cars, electricity on-demand and more.
This presents a host of benefits for consumers and businesses alike, but the risks involved from a cyber perspective also grow exponentially when you're talking about controlling a car on the freeway, safely completing surgeries or providing power to cities. A cyberattack can literally be a matter of life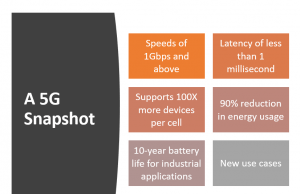 or death.
On this webinar replay, Threatpost's Tara Seals is joined by Nokia Threat Intelligence Lab's Kevin Mcnamee, iboss' Paul Martini and Sectigo's Alan Grau to talk about how IoT security will change in the era of faster networks. The discussion covers emerging real-world threats and practical strategies for locking down IoT footprints in 5G-enabled enterprise environments.
Mcnamee presents research that Nokia carried out on IoT botnets and what takeaways we have as we move to 5G, while Martini discusses top IoT attack vectors and security issues, and the potential damage that can come from attacks. Grau concludes the presentations with expert advice on best practices for securing your IoT footprint.
And finally, a Q&A covers the 5G rollout timeline, the importance of adding security to IoT devices during the design phase, carrier network security, how attackers can target specific classes of device and more.
Follow the link to watch this free webinar on 5G and IoT. Registration required.