In an attempt to clear the cybersecurity air, the United States and the People's Republic of China agreed Monday to work in tandem to prevent future cyber threats. Meeting at the Pentagon, Defense Secretary Leon Panetta and General Liang Guanglie, China's Minister of National Defense, insisted the two nations should be seen as equals and according to Guanglie, "build a new state-to-state relationship that's not a stereotype of two major powers predestined for conflict."
Panetta echoed these sentiments and went on to cite both countries' advanced technological capabilities as an advantage in preventing future crises.
A report from the Associated Press notes that Guanglie's trip was the first of any Chinese defense minister to Washington since 2003. Guanglie was supposed to visit the U.S. last year but the trip was postponed after Obama announced plans to sell weapons to Taiwan, angering China.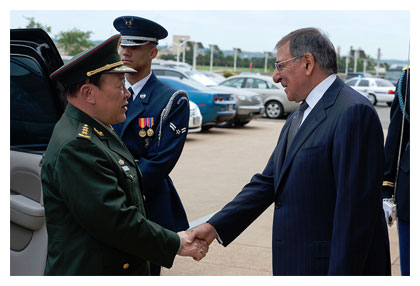 The visit comes about six months after the United States' strongest implication that China was to blame for launching a series of cyberattacks against the U.S. and other Western nations.
In a report, "Foreign Spies Stealing US Economic Secrets in Cyberspace," the Office of the National Counterintelligence Executive reasoned that China had initiated aggressive cyber espionage campaigns against US firms, backing up their claims with research from the Federal Bureau of Investigation, National Security Agency and the Central Intelligence Agency.
Guanglie didn't directly reference the report during his visit but did support his country, claiming that it wasn't possible to attribute China to all of the cyberattacks that hit the U.S.
In the past year, attacks, allgedly from China, have hit the U.S. Chamber of Commerce, Google and other Western firms.
*Image via the Secretary of Defense's Flickr photostream, Creative Commons