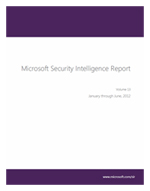 Tired of all those malware and vulnerability reports that count how many of each have been reported to security companies? Well, Microsoft has taken a different tack in its latest Security Intelligence Report (SIR) by globally comparing regions' relative security against socio-economic factors including the maturity of a national or regional cybersecurity policy.
The results aren't so surprising; areas such as Europe with well-defined, long-standing and enforceable policies rate much better than less developed nations where crime per capita is higher, there's less broadband penetration and a higher rate of piracy.
Attackers are fond of luring victims with free or cut-rate software on a multitude of peer-to-peer file-trading sites, for example, a big factor ramping up infection rates in parts of the world such as Africa, and parts of Asia and the Middle East.
In the meantime, regulations such as the Council of Europe Cybercrime Treaty and the London Action Plan Membership are keeping cybercrime rates sharply lower in Western Europe. Microsoft said in the SIR that it hopes policymakers will take notice of the data and continue to enact regulations that promote strong security practices.
"For policymakers seeking ways to improve national cybersecurity, these policies represent activities that are likely to have a meaningful and measurable impact," the report said. "While we believe that these specific policy actions are critical steps for policymakers to consider when addressing cybersecurity on a national level, the manner in which these policies were created and adopted – through international partnership or joint public/private efforts – likely serve as important models for how successful cybersecurity policies might be created in the future."
Microsoft's yardstick for the SIR was the quantitative indicators about a region and the rate of malware infections measured by computers cleaned per mile by its Malicious Software Removal Tool (MSRT). The data compared 34 socio-economic factors such as Facebook usage, mobile penetration, computers and income per capita, instability within a country or region and more.
The United States and Western Europe scored best, according to the results with an infection rate of five systems per 1,000 scanned, compared to 8.9 on average for the rest of the world. The piracy rate, meanwhile in these locations, was 42 percent. Microsoft determined that half these countries had cybersecurity related treaties and regulations in place.
At the other end of the spectrum, lower performing countries, such as those in the Middle East and Africa, had low broadband penetration, higher crime per capita. Infection rates soared to 18 out of 1,000 scanned, three times the infection rate of the higher performing countries and double the worldwide average. The piracy rate, meanwhile, was 68 percent, 26 percent higher than the better performers. Fewer than 10 percent of these areas had signed treaties or regulations.
Some common denominators among the better performing countries, in particular in Europe, was ratification of the Council of Europe Convention on Cybercrime, a treaty that creates regional policy parameters and provides legal muscle to investigate and prosecute cybercriminals. Member countries of the London Action Plan also outperformed non-members. The London Action Plan is a platform for international action against spam, fraud and malware. It explains how members in the public and private sector can ward off attacks and Internet-based threats.
As it stands to reason, areas were lower piracy rates do a better job containing malware infections, although Microsoft acknowledges that piracy rate is an outcome.
"This does show the potential benefit of protecting intellectual property as higher rates of piracy are positively correlated with higher CCM," the SIR said. "This is unsurprising, as pirated software poses a serious security risk to its users."