Browsers Firefox and Chrome received updates this week, both adding security and privacy tools that help with password management and help block sites that track users.
Mozilla's Firefox browser introduced an "Enhanced Tracking Protection" feature that blocks over 1,000 third-party companies that track online activity and personal information. Through a partnership with Disconnect, an open-source anti-tracking tool, Firefox users can add the feature by updating their browser. The anti-tracking will be set to default.
"We believe that in order to truly protect people, we need to establish a new standard that puts people's privacy first," wrote Firefox senior vice president Dave Camp, in a blog post on Tuesday.



The feature blocks cookies from known third-party trackers. It's unclear however if the feature prevents a different type of profiling, called browser fingerprinting.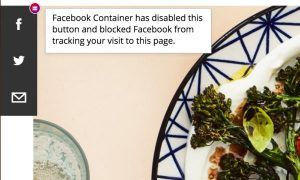 Firefox also updated its Facebook Container (now 2.0) browser extension for desktop users. The extension debuted last year and is designed to isolate your web activity from Facebook by running the site in a container.
The 2.0 update further restricts Facebook's ability to follow you around the web and harvest user data from sites that display Facebook Share and Like buttons. Now when you visit a site with a Like or Share button, Facebook Container 2.0 will block Facebook from building a "shadow profile" of your activities by isolating the code behind buttons. Firefox will now display the message, "Facebook Container has disabled this button and blocked Facebook from tracking your visit to this page."
Firefox has also made available its password-management tool, called Firefox Lockwise (formerly known as Firefox Lockbox) to desktop users. Previously it was available on Android and iOS, and was iPad-optimized. Firefox also added an email address management tool; and what's clever about this addition to the browser is that Mozilla will monitor any email addresses saved and alert you if a breach occurs with your email address in it.
Google Chrome 75
Google Chrome 75 is not a major release. However, it's notable because it addresses weak passwords by porting its Chrome's built-in password manager to the Android OS version of its browser.
Now, Android users of Chrome have support for Google's "suggest a strong password" feature. The way it works is when using the Chrome browser on Android (or other OS platforms), Chrome will prompt you to generate "strong and unique passwords" using its built-in password manager.
The Chrome password manager has also been updated with an on-the-fly password lookup feature. "Quickly look up your passwords by tapping any password field and using the new keyboard option," touts Google in its Android Chrome update bulletin.
Chrome 75 also adds a beta Reader Mode that "distills" a page down to what Google assumes is the featured text and art. Gone are pesky ads and other extraneous distractions. The feature is not on by default and you will need to visit chrome://flags/#enable-reader-mode to enable it.
Google said Chrome 75 for iOS will be rolling out via Apple's App Store. The iOS version of Chrome adds a feature to the browser's incognito mode that prevent native applications from loading, should you trigger one by clicking on a link.