If you are a CISO or CIO, you need to know what is going on with your organizational security. Together with that, you cannot afford to be inundated with alerts, messages and other data whenever something happens. On the one hand, you need to be in the know, because cyberattacks can occur at any time; on the other hand, you need the full view of what is going on, without the insanity of all the noise.
Obviously, having a team you can trust is important, but can you afford the time it takes to get updated when an attack is well underway? As CISO / CIO, you need to be at the center of the real-time knowledge, with the ability to make the right decisions on-the-fly.
With these challenges in mind, Cynet recently launched the Cynet Dashboard application, providing 24/7 full visibility into your organization's overall security situation, with real-time alerts on newly detected threats, and the ability to react as things happen. New Cynet customers will also get the Cynet CISO Kit, which includes an iPad and Apple Watch running the app. This means no matter what the time or where you go, your organization's security is right in the palm of your hand. (You can get more information by clicking here.)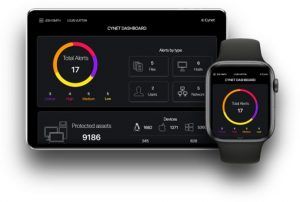 "One of the biggest challenges of the CISO is to stay on top of things as they happen," explained Eyal Gruner, co-founder of Cynet. "It's about more than just full visibility, it's about knowing about incidents in real-time, understanding their severity, and deciding what actions to take." Gruner said Cynet sees the CISO Kit as a game-changer to how security has been done till now. "The CISO can't spend every minute in front of the screen, but they still need to know what's going on. We want to give them that with the CISO Kit, wherever they go, no matter what the time, the Apple Watch and iPad working with the Cynet Dashboard App will make sure they are always in the loop."
The Most Important Information
The Cynet Dashboard App gives CISOs a full view of their environment, including every asset, all open alerts, and risk ranking of each alert (low, medium, high, critical), plus its type (host, file, user, network).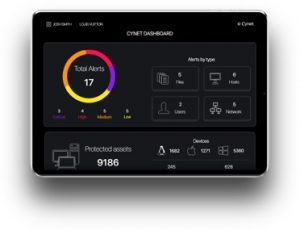 "We really dug into this, talking to hundreds of stakeholders at organizations worldwide, to hear what they needed most to make their jobs easier," said Gruner. "It came down to one common thing: visibility into their environment, with real-time information on security events as they happen."
Concise Reports with Crucial Information in the Palm of Your Hand
In addition to its overall view, the Cynet Dashboard App gives the CISO / CIO concise reporting including details like incidents and alerts, as they happen. "Now the CISO can sit in a meeting and casually say, 'We have 3 incidents over the past week, and two are being handled as we speak.'"


Full Control No Matter Where You Are
According to Gruner, Cynet prides itself not only on giving its customers advanced cybertechnologies, but also on adding a second level of security through its team of elite security analysts, available 24/7 as part of its CyOps SOC team. "With the Cynet 360 platform, they get the best technology with the backing of some of the world's leading security experts for incident response, in-depth investigation and proactive threat hunting," Gruner said.
CISOs can also easily engage the CyOps team via the Cynet Dashboard App, so they are getting real-time data and reporting on-the-go, and real-time response to security incidents as they occur.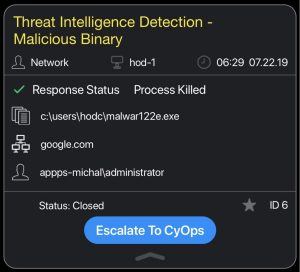 Giving the CISO a New Experience
"The Cynet CISO Kit is a first of its kind in the industry," said Gruner. "It empowers the CISO, giving him the data and means to be truly autonomous when it comes to the organization's security. All he needs is his iPad or Apple Watch, and he has full control, literally – in the palm of his hand."
Interested in learning more about the Cynet Dashboard app and getting your own CISO Kit? Click here