Despite the appetite for dystopian surveillance dramas on TV and in film, most Americans actually do trust law enforcement to not abuse facial recognition technology, according to a new survey.
According to the Pew Research Center, a full 56 percent said that they trust police and officials to use these technologies responsibly. That goes for situations in which no consent is given: About 59 percent said it is acceptable for law enforcement to use facial recognition tools to assess security threats in public spaces.
However, when asked about other types of organizations using the technology, survey respondents were much less enthusiastic. Only about a third (36 percent) said they trust technology companies and a dismal 18 percent said they trust advertisers to use facial recognition responsibly.

Certain use cases bombed in the survey too: For instance, tracking someone who is entering or leaving apartment buildings is seen as a good idea by only 36 percent; while monitoring the attendance of employees at a place of business is even less popular, with 30 percent supporting the idea. Faring even worse is the idea of using it to observe how people respond to public advertising displays in real time (just 15 percent liked the notion).
Most also believe facial recognition platforms are effective: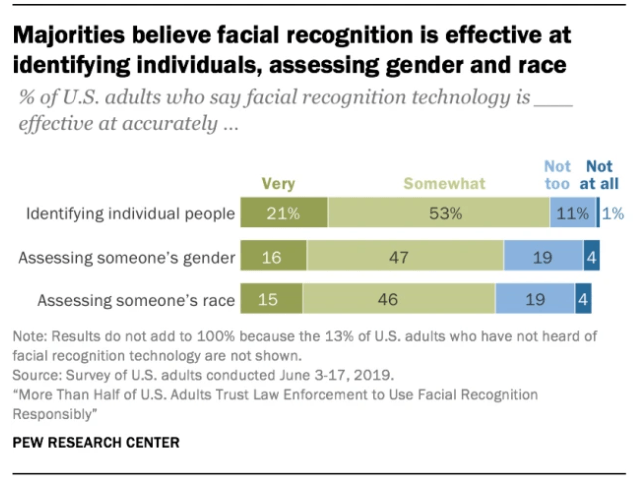 It's worth noting that these attitudes also differ across demographic groups. For instance, smaller shares of black and Hispanic adults than those who are white think the use of facial recognition technology by law enforcement is acceptable, and the same is true of Democrats compared with Republicans.
The demographic differences are especially stark in the case of age. Fewer than half (42 percent) of 18- to-29-year-olds think it is acceptable for law enforcement agencies to use facial recognition to assess security threats in public spaces. But that share rises to 55 percent among those ages 30 to 49, to 65 percent among those ages 50 to 64, and to 76 percent among those 65 and older. Indeed, just 6 percent of older Americans think this is an unacceptable use of facial recognition technology.
Perhaps thanks to the increasing role of facial recognition in pop culture, Pew found that most Americans have heard about facial recognition technology in general (86 percent), with one-quarter having heard a lot about it.
Interested in more on the internet of things (IoT)? Don't miss our on-demand Threatpost webinar, IoT: Implementing Security in a 5G World. Join experts from Nokia, iboss and Sectigo as they offer enterprises and other organizations insights about how to approach security for the next wave of IoT deployments. Click here to listen to the recorded webinar.