As the end of the year approaches, security decision makers are creating their 2020 plans and running them by management for approval. In most cases, this means requesting and making the case for the necessary resources that need to be allocated, while still providing value to the organization. The Definitive 2020 Security Plan PPT template was created to make this as easy as possible, while giving the security decision makers a ready-to-use tool for clearly and easily stating their case to management.
As it stands, many organizational security leaders have the professional knowledge to state their case   technologically, but find it challenging to communicate their case to upper management. Management doesn't think malware, identity theft, or zero-day exploits, instead they consider financial losses and gains. Their questions are: will investing in security product A reduce the chances of cyberattack and costly downtime? Is optimization of your in-house team's effectiveness better achieved by outsourcing certain security functionalities to a service provider? When you are accountable for security in the organization, you need to know how to answer these questions.
A lot of this is dependent on the pros and cons of your current security posture. A good security manager needs to be able to say that what was achieved over the preceding year was not happenstance, but the end result of a well-planned security strategy. And they clearly need to be able to communicate this to upper management's security-decision makers. This is the best way to justify the need for resources reallocation.
In general, the more you can translate your insights into a clear black and white message, the better your requests will be received.  For example, if you want to request a larger budget to purchase new security technology, you need to tell management about the solution's ability to better prevent potential monetary and asset losses to the organization than the solution currently in use, and not about the ability to pinpoint malicious behavior. And while the two stories told here might seem similar to the security practitioner, to non-security expert management, they are very different.
By utilizing The2020  Security Plan PPT template, CISOs, CIOs, security directors and others can easily share their knowledge, including insights and conclusions – in a language non-security savvy decision-makers can understand.  Built on the feedback gathered from security professionals and management personnel, the ppt provides all the information expected in an annual plan including the foundation on which to build a case, saving security professionals time and resources by not having to create the plan from scratch. Simply open and start filling in the details.
The presentation template in made up of three sections:
Overview showing current cybersecurity resources, implemented technologies, security team costs, and third-party provider engagement per event or on ongoing basis.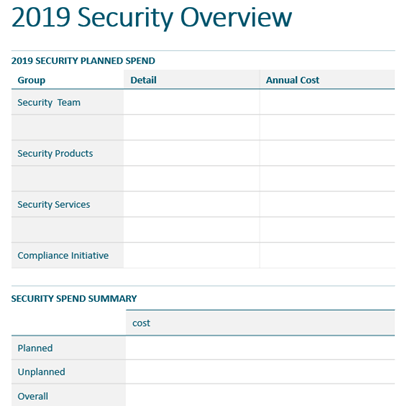 Evaluation of current security solutions. Measures of success include attacks prevented and contained, damage analysis and estimation of potential damage averted. Measures of challenge include attacks which succeeded in causing damage due to lack of technology or insufficient security manpower.
Annual planning lists actionable steps to take moving forward including re-assessing resource allocation, increasing security funds, adding or removing additional security solutions, working with or ending work with a security provider, plus any other actions taken to fill the gaps found during evaluation of the organizational security posture.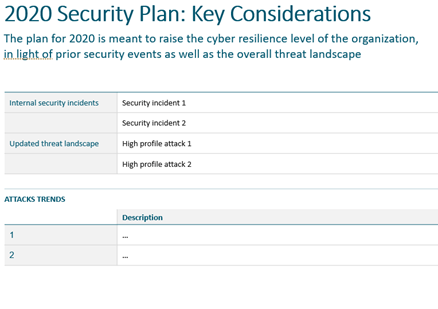 As is evident, the main focus on the presentation template is the cost to the organization. Questions asked include what was the organizational spend on security, how effective was the budget and how much (if any) was lost due to lack of security funding.
The 2020  Security Plan PPT template helps security professionals engage their organization's decision-makers, getting their backing for critical security decisions, and enabling you to implement the best strategy for your organization.
You can access the Security Plan PPT template here.