The Syrian Electronic Army (SEA) reportedly hacked into a database belonging to the free messaging and video sharing app Tango over the weekend, potentially compromising millions of users' information.
The SEA – a group of hackers that attacks websites to spread pro-Bashar al-Assad propaganda – claims it accessed more than 1.5 terabytes of the company's daily backup information. The information it managed to download included customers' private phone numbers, contacts and emails, according to a post on its site.
The group posted a series of images to corroborate the hack, including supposed screenshots of the network's folder, the Tango app log and the backup folder's size, before claiming it would send along "much of the information" to the Syrian government.
The Palo Alto-based company verified the breach on Saturday.
"Tango experienced a cyber intrusion that resulted in unauthorized access to some data. We are working on increasing our security systems," the company tweeted, adding "We sincerely apologize for any inconvenience this breach may have caused our members."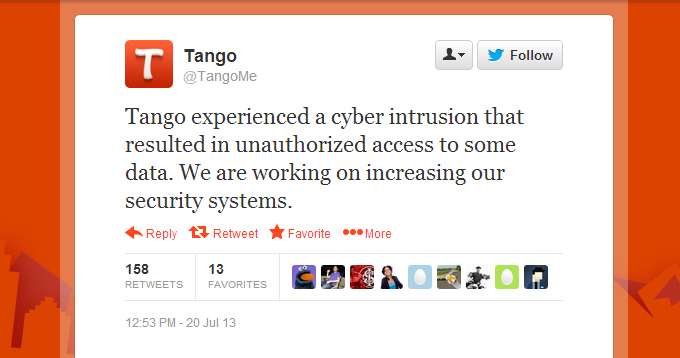 Tango's cofounder and chief security officer Eric Setton told NPR Sunday that the site had been attacked, and that "increased security protocols are now in place."
Tango is a multiplatform free application that allows users to text and video chat, play games and share photos. According to a description on Google Play, more than 130 million people use the app worldwide, but its unclear just how many of those users may have had their information compromised.
The Internet has played a critical role for activists and rebels alike in the war-torn nation. Earlier this spring, Syria was yanked offline twice in the span of a month amid bloody protests.  The SEA meanwhile has ridden a successful wave of hacks this year, targeting the Twitter account of the Associated Press and the satirical news site The Onion while continuing to launch attacks against Syrian rebel sympathizers.