The amount of spam hitting users' inboxes fell off a cliff in late December, with many security experts attributing the decline to the sudden disappearance of the Rustock botnet and other networks from the spam business. But the level of spam has begun to gain back some of the ground it lost today as other spammers have taken up the slack.
Researchers say that after the sudden drop-off in spam volumes, things stayed fairly quiet for a time, but now it seems that other spammers have picked up where Rustock and the other spamming operations left off. The volume of spam took a big jump upward in the last 24 hours, according to researchers at Websense. The volume of spam hasn't made it all the way back to the levels of the last few months of 2010, but it seems to be on the way, as shown in Websense's spam volume chart.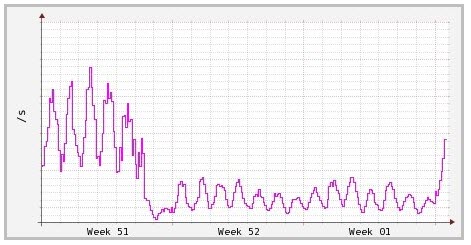 "The spike in spam today appears to be attributable to medical spam
using Russian domains that we have seen used before. This spam has a
subject like "<email address> VIAGRA Official <random
number>%", " Websense researcher Carl Leonard said in a blog post.
Leonard said that the spam subjects are nothing new, basically the same e-card and scam messages that users have been seeing for years:
* Your friend invited you to Twitter!
* You have received A Hallmark E-Card!
* You have got a new message on Facebook!
* Shipping update for your Amazon.com order
Rustock has been one of the top spam botnets in operation for a while now, but the volume of spam put out by the network began to fall off in the fourth quarter of 2010. The decline is connected to the shutdown of an affiliate program in October, according to research by M86 Labs. That shutdown has had a cascading effect that has helped contribute to the major spam decline, as Brian Krebs reported last week.
There are always other affiliate programs for spammers to use and there also is no shortage of botnets and operators ready to pick up the slack on spamming. The spam business is still quite profitable and there are a lot of moving pieces involved in the spam ecosystem, so the decline or demise of one botnet or affiliate program often doesn't have a long-term net effect on overall volumes.