Even while people remain concerned about their own privacy in the workplace and online, most still admit to violations of their coworkers' privacy by "creeping" on PC screens and "peeking" at documents found in printer trays, a new survey has found.
The survey—commissioned by HP as part of National Cybersecurity Awareness Month—found that people are generally quite protective about their own private data in the workplace and online even as we live more and more of our lives publicly. However, they also tend to encroach on others' privacy when given the opportunity as a result of basic human nature, according to the report, called "HP Creepers and Peekers" (PDF).
Moreover, while people count losing control of their privacy and data as a top fear—even losing sleep over it—they also feel powerless to control what happens to it and seem resigned that protecting private data is impossible, according to the study.

HP conducted the survey as a way to analyze how human behavior impacts both business and personal decisions, particularly in the realm of privacy as related to technology and the more public and social way it allows people to live their lives, the company said in the report.
"This study looks to better understand a more prevalent threat than third-party, online-targeted hacking: in-person 'hacking' –driven by human curiosity," the company said in the report. "Understanding this 'creeping/peeking' behavior will help HP create and lead an authentic conversation around this topic."
The survey polled 3,000 general consumers and 1,500 office workers across Canada, the United Kingdom and the United States for its results.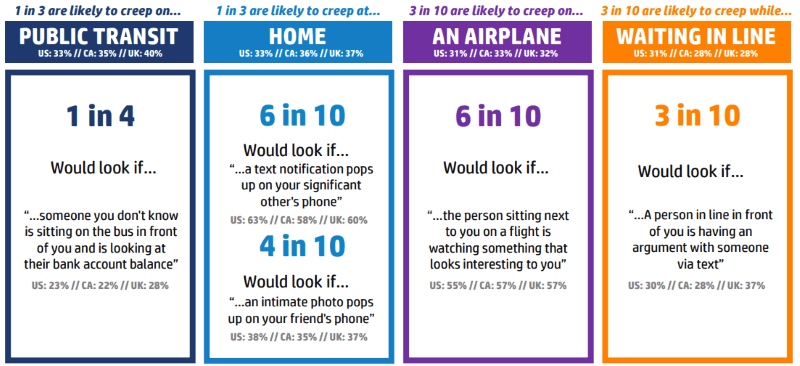 Indeed, the survey results suggest that wanting to know what's going on in other people's private lives—which today often means checking out others' device screens or documents in a workplace—is simply a product of natural human curiosity and not anything explicitly malicious.
These findings rang true especially from respondents in the United States, the survey found. The report found that 73 percent of U.S. office workers admit that they will take a look at coworkers' PC or phone screens if given the opportunity, while three out of four people in the United States will peek at unclaimed documents left in office printer trays. Moreover, 44 percent of U.S. respondents admitted that they not only will look at an unclaimed document, but also make a copy, take a picture, or take it outright.
Still, though people acknowledged that they engage in this behavior, they also admit that they think it's wrong and are worried about their own privacy should the situation be reversed, the survey found. Eighty-five percent of people in the United States responded that people should not glance at someone else's screen and mind their own business, the report found.
The concern for privacy extends to online activity, the survey found. Seven in 10 U.S. respondents said that they are concerned about online hackers, though 73 percent said they are resigned to the inevitability of compromise. In fact, two out of three U.S. respondents said personal-data compromise is one of their biggest fears, while 26 percent have lost sleep over this worry.
Overall, the report shows that invading other people's privacy is human nature, but so is self-protection. This is why both the general public and office workers alike are interested in PCs, printers and other devices that provide more built-in security to protect their privacy—even if some of the protection they desire is from themselves, according to HP.
What are the top cybersecurity issues associated with privileged account access and credential governance? Experts from Thycotic on Oct. 23 will discuss during our upcoming free Threatpost webinar, "Hackers and Security Pros: Where They Agree & Disagree When It Comes to Your Privileged Access Security." Click here to register.