Business social-networking site LinkedIn has been unavailable in some parts of China since Thursday, suggesting it may have fallen victim to the country's increased crackdown on online discussion sites.
Pings sent to LinkedIn.com from the Chinese cities of Shanghai and Beijing weren't returned when Threatpost checked with Internet monitoring site Justping.com this morning.
Much like recent events in Egypt and Tunisia where protesters coordinated rallies via social networking, Chinese activists have taken to the Internet to pressure the nation's ruling Communist Party into making changes. Attempts to ignite what's being deemed a Chinese "Jasmine Revolution" initially began earlier this week on Boxun.com, a Chinese website whose servers are based out of North Carolina. Discussions on the site, which is currently banned in mainland China, have lead to a handful of demonstrations and subsequent arrests throughout the week, according to the BBC.
In addition to LinkedIn and Boxun, protests were also being organized on Twitter until that site was seemingly blocked as well. While China's no stranger to censorship, researchers haven't found any concrete proof that LinkedIn's unavailability stems from Chinese rule.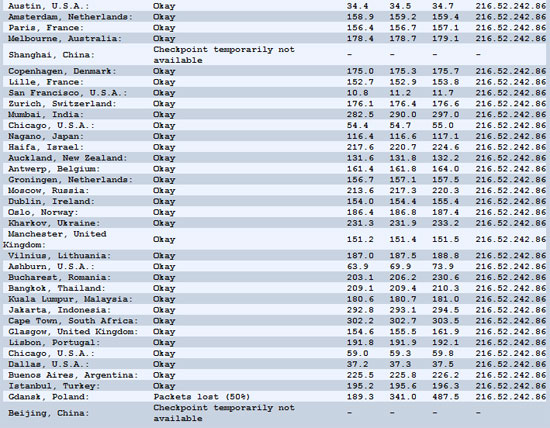 (Screenshot via Justping.com)
According to a statement on Friday from LinkedIn's Director of Corporate Communications Hani Durzy, the company is continuing to monitor the situation despite indications that access to their site is beginning to be restored.
China has a storied history with censoring information it finds unsavory but it was only last year that fear began to mount that those living outside of China could have trouble accessing information. With 57% of the world's networks passing DNS requests through a Chinese DNS, a lack of cooperation on China's part could spell trouble for Internet security.
Additionally, in the wake of last year's Google Aurora attacks, the Gmail account of a UK privacy rights advocate who frequently speaks out against the Chinese government was found to have been spied on by China.