TextSecure, the secure messaging app developed by the encrypted communication provider WhisperSystems, is no longer merely a private short messaging service (SMS) application. According to a blog post penned by WhisperSystems co-founder Moxie Marlinspike, TextSecure is now a private, asynchronous instant messaging application that does not depend on SMS or multimedia messaging service (MMS).
In its latest version – released on Google Play today – encrypted group chat and push messaging capabilities are among the app's new features. However it also offers end-to-end encryption, forward secrecy, and deniability with little or no user-input.  To be clear, the TextSecure server never stores or has access to any user communication or other data.
"The new TextSecure protocol doesn't require a round trip key exchange process, eliminates half-open sessions, and is lightning fast – all without compromising forward secrecy or deniability," Marlinspike writes. "This creates an experience that takes encryption entirely out of the user's way. A user simply sends a message, and it's encrypted end to end, every time."
Like Apple's iMessage service, when a TextSecure user communicates with another TextSecure user, the service sends messages over a data-network rather than via SMS – the protocol used by most other text messaging services. Under one configuration of the application, users can opt-into allowing TextSecure to fall back to SMS or MMS when they are communicating with users that do not have the TextSecure app. Also like iMessage, the messaging transport method is indicated by a color scheme (green for SMS; blue for data).
Under a second configuration, TextSecure acts more like WhatsApp, only ever communicating over a data-channel and only allowing for TextSecure-to-TextSecure communications.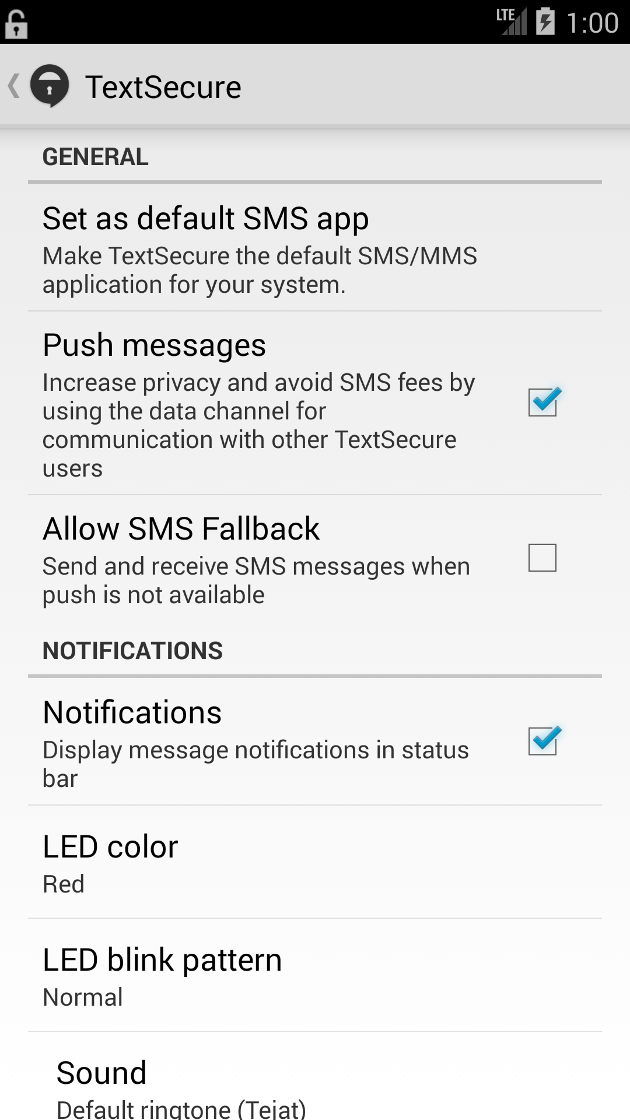 (Image via WhisperSystems)
At present, there is no iOS version of TextSecure, but Marlinspike says the the app will be available for users of Apple's various mobile devices in the near future.
The new version also added support for encrypted group chat. In order to maintain the privacy of these group sessions, the TextSecure server neither stores nor has access to group metadata such as lists of group members, the group title, or even the group's avatar icon.