Although nearly 80 percent of respondents in a recent survey believe software supply-chain attacks have the potential to become one of the biggest cyber threats over the next three years, few organizations are prepared to mitigate the risks. This state of affairs comes as businesses lose millions every year in remediating these types of attacks.
That's according to CrowdStrike's global SupplyChain Survey, which polled 1,300 senior IT decision-makers. It found that a hefty two-thirds of the surveyed organizations experienced a software supply-chain attack in the past 12 months, as this chart shows: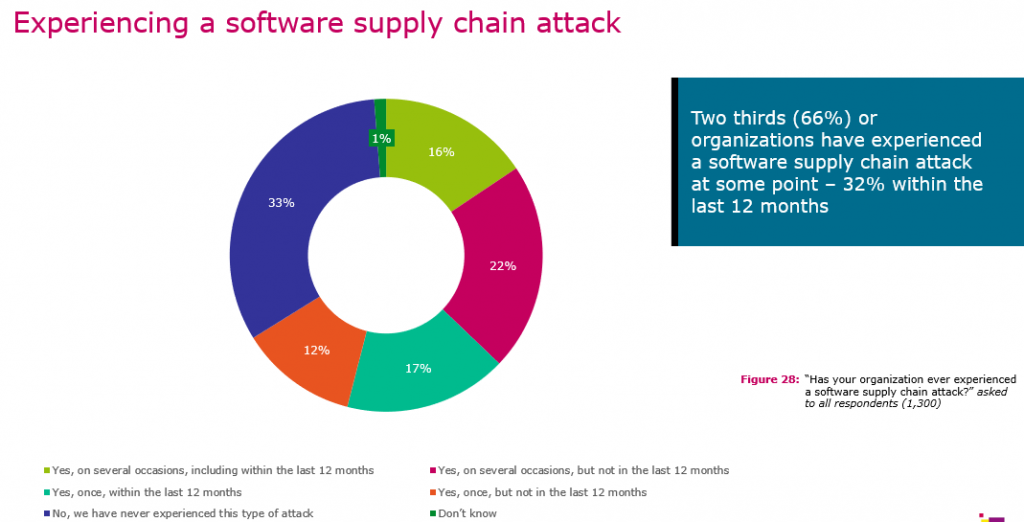 Worse, the vast majority (87 percent) of those that suffered a software supply-chain attack had either a full strategy in place, or some level of response pre-planned at the time of their attack. This proved ineffective: On average, respondents from nearly all of the countries surveyed took close to 63 hours to detect and remediate an attack:
The impact is significant: 90 percent of respondents confirmed they incurred a financial cost as a result of experiencing a software supply chain attack. The average cost of an attack was over $1.1 million dollars. Further, companies felt a range of other damages: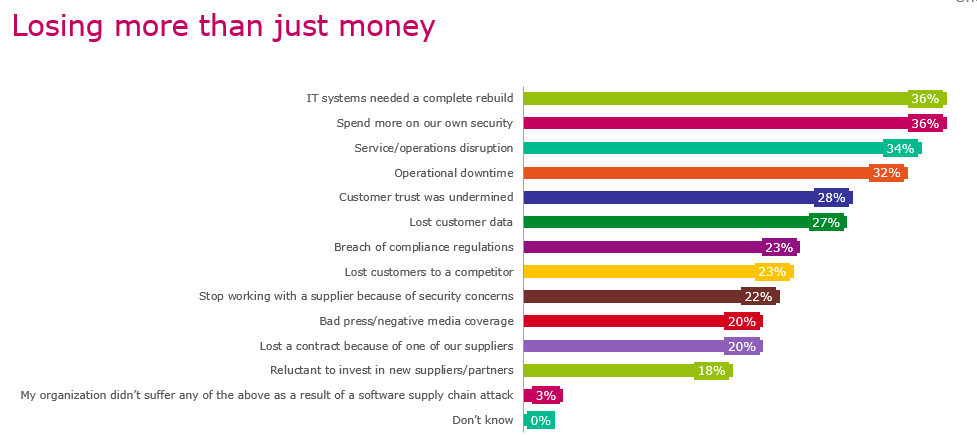 "It's clear that supply chain attacks are becoming a business-critical issue, impacting topline relationships with partners and suppliers but organizations largely lack the knowledge, tools and technology to be protected," said Dan Larson, CrowdStrike's vice president of product marketing. "Knowledge gaps and the lack of established standards to prevent complex supply-chain attacks are putting organizations at risk from a financial, reputational and operational perspective."
At the same time, 71 percent believe their organization does not always hold external suppliers to the same security standards. Only 37 percent of respondents in the US, UK and Singapore said their organization has vetted all suppliers, new or existing in the past 12 months.
The good news is that following last year's NotPetya attack and with the GDPR in effect, organizations are more concerned about vetting their suppliers and partners going forward, with 58 percent of respondents saying that they will be more rigorous when evaluating their security partners. Nearly 90 percent agree that security is a critical factor when making purchasing decisions surrounding new suppliers: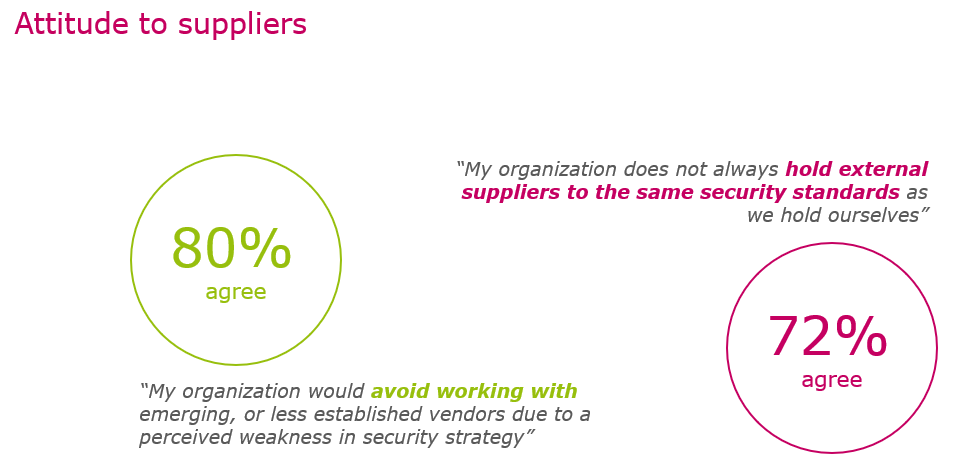 Yet, on a sobering note, only a quarter believe with certainty their organization will increase its supply chain resilience in the future.
And finally, while supply chain threats can occur in every sector of the economy, the industries that mostly experience these attacks are biotechnology and pharmaceuticals, hospitality, entertainment and media, and IT services.
Overall, supply-chain attacks are top of mind for decision-makers, and concerns abound: