Managing the growth, cost and scope of a bug bounty program can be a tightrope act. The economics may have convinced you to launch a bug bounty program, but managing the bug-to-patch ratio can be treacherous when bounties are too high and bug reports surge. This webinar tackles the pros and cons of private versus public programs and the balancing act of navigating vulnerability disclosure with bug hunters hungry for notoriety.
Watch our FREE webinar that brings together leading voices from both the bug hunting and bug bounty communities to address the Five Essentials for Running a Successful Bug Bounty Program.
This webinar is highly relevant to:
Companies thinking about or who have recently launched bug bounty programs.
CISOs interested in expanding an existing bug bounty program.
White Hat hackers looking to maximize their bug bounty earning potential.
Bounty Program administrators eager to attract top talent and how to keep bug hunters happy.
Panelists include: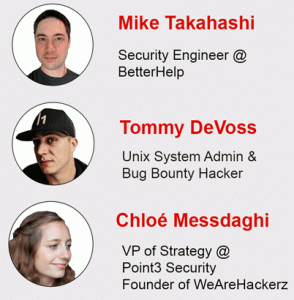 Casey Ellis is CTO and founder of Bugcrowd. Ellis is also a member of the CTI League, an international coalition of cybersecurity pros working to combat cyberthreats that arose amid COVID-19, especially disinformation and attacks at already strained healthcare organizations.
Mike Takahashi is a Security Engineer at BetterHelp.  Mike brings experience from both sides of bug bounty, as a manager of multiple programs, and as a freelance hacker. Previously, Mike established Stanford's bug bounty program, one of the first in higher education.
Tommy DeVoss (a.k.a. @dawgyg) is a Unix System Admin and full-time Bug Bounty Hacker. With 25 years of experience under his belt, Tommy is currently ranked 5th on the Verizon Media bug bounty program, where he spends most of his time hacking, and 25th over all on HackerOne. He has found over 450 vulnerabilities in HackerOne customer programs, earning him the honor of being one of the first to achieve $1M in bounties on HackerOne. While he's currently based in Richmond, Virginia, Tommy can be found traveling to California, Florida, Las Vegas, and other major cities around the world.
Chloé Messdaghi is the VP of Strategy at Point3 Security. She is an InfoSec Advocate & Activist who strongly believes that information security is a humanitarian issue. Besides her passion to keep people safe and empowered online and offline, she is driven to fight for hacker rights. She is the Founder of WeAreHackerz (formerly known as WomenHackerz) and the president and co-founder of Women of Security (WoSEC), podcaster for ITSP Magazine's The Uncommon Journey and runs the Hacker Book Club.
Interested in exploring Threatpost's archive of on-demand webinars? Please visit our Webinar Archives.