Microsoft today released its biannual Security Intelligence Report
which demonstrates some surprising conclusions about how the threat
landscape is impacting enterprise networks. For example, the number of
rogue security software infections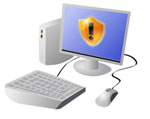 , which experienced a high-profile
scourge earlier this year, was down, as was the number of Trojan and
downloader infections. Computer worm infections, on the other hand,
surged upward. Read the full story [SearchSecurity.com].