By Andrew Storms

Every month, like clockwork, Microsoft releases security bulletins and every month people ask me if it's small or a big release. While the exact details of the patches are generally treated as news, the expected workload each month really shouldn't be a guessing game because Microsoft's patch releases are predictably cyclical.
I don't have any special inside knowledge, and I can't speak for Microsoft, but when I look at the publicly available information it's pretty clear to me how the cycle works.
60 Day QA Cycle
A 30 to 60 day QA cycle on a Microsoft patch is typical, and it's actually pretty easy to tell how many days a patch was probably in QA. If you are curious, download the patch manually and take a look at the date the file was digitally signed. This isn't an absolutely accurate date because a patch could drop in and out of the QA process several times, but it's a reasonable approximation.
Using this method I calculated the average dates for the Dec 2009 patches at 54 days, November 2009 patches at 36 days, and October 2009 at 45 days. It's not too hard to jump from those numbers to an average 60 day cycle.
Roller Coaster Months

The security teams in charge of acquiring, testing and installing patches can feel like they are on a roller coaster with Microsoft patches. In just the first three months of 2010 we've already had wild swings in the number of CVEs and bulletins. January saw 2 bulletins, followed by huge February with 13, and then this week we saw just 2 again.
If we plot the number of bulletins along side the number of CVEs patched each month, there is a distinct pattern. Most Microsoft patches are obviously on a two month push. The first graph plots Microsoft release trends from January 2006 to March 2010. The second graph shows just the last two years, 2008 and 2009, where the wild up and down pattern is more obvious.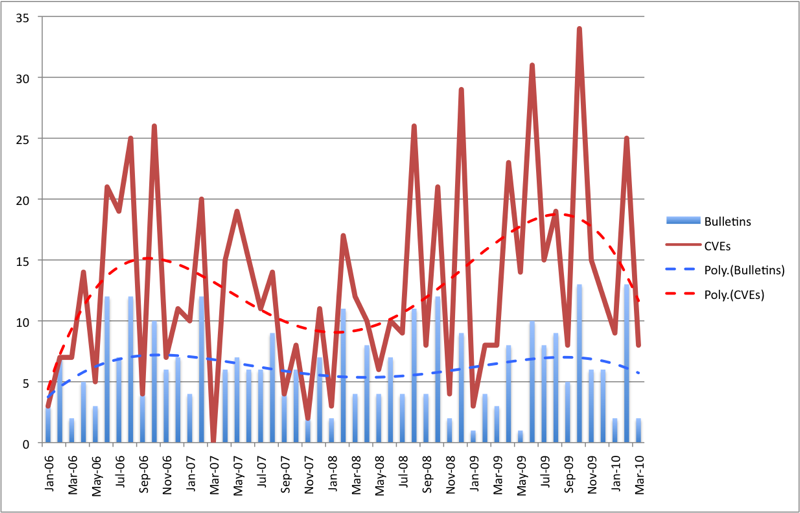 Lessons Learned
We'll never be able to predict the exact patch details for any month, but security teams can use these data points to help with planning. We all know that resources are short, but the risks and threats continue to grow, so better utilization of resources has never been more important.
There are no shortage of vendor patches. Luckily, Microsoft not only releases their patches on a predefined schedule, they are also fairly predictable in size. Since March was a pretty light Patch Tuesday, we can expect that the bulletin count for April will jump back up into double digits.
If you are the resource manager for a team of people in charge of your company's patching methodology, just knowing that can help you plan. This month is your chance to catch up from January. Thinking ahead to April, it makes sense to anticipate a large release from Microsoft so plan to have all hands on deck.
Not really much of a mystery after all, is it?
* Andrew Storms is nCircle's Director of Security Operations. He is responsible for the definition and enforcement of the company's security compliance programs as well as overseeing day-to-day operations for the Information Technology department.