One in four respondents to a Threatpost reader poll said they were okay with sacrificing a portion of their personal privacy in exchange for some form of cellphone tracking that could – in theory – reduce coronavirus infection rates and save lives.
While the majority of Threatpost readers were privacy absolutists, the coronavirus pandemic had some respondents siding – in spirit – with controversial tracking of U.S. citizens via their cellphones.
When asked, "For coronavirus tracking, do you think public-health benefits outweigh privacy risks?" approximately 27 percent voted "Yes – Privacy and data-protection laws should not get in the way of saving lives." Sixty-nine percent said, "No – A pandemic doesn't give authorities the right to strip citizens of their privacy rights."

The poll results come as a report in The Wall Street Journal details how U.S. officials are already using mobile ad location data to study how COVID-19 spreads. The report said U.S. authorizes are using mobile ad location data to create a portal, containing geolocation data across 500 U.S. cities, in an attempt to help plan their pandemic response.
The informal poll did reveal a slight change of heart when it came to privacy issues of others versus them. When asked, "If an app existed that told you who in your neighborhood was infected with the coronavirus, would you use it?" over a third (33.6 percent) of respondents said they would use it. Still, 58 percent said privacy implications were too daunting and they would not use the app.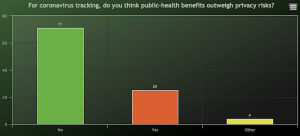 The Threatpost's informal and unscientific poll, which comprised of 183 Threatpost readers, was for pure entertainment, but hoped to reality check attitudes around several U.S. and global cellphone tracking initiatives. One such plan is an app launched called C-19 COVID Symptom Tracker (developed by a startup called Zoe), which asks users to self-report their symptoms. The app was launched last week in the U.K.
Thomas Hatch, CTO and co-founder at SaltStack, and one of the poll respondents, expressed concern when asked to weigh-in via email. "Given the extraordinary nature of the COVID-19 pandemic, I do believe, that in this case, public health does outweigh privacy."
According to the John Hopkins University of Medicine's Coronavirus Resource Center at the time of this writing, there are currently 785,709 total confirmed cases globally, up from 467,700 a week ago.
Mob Mentality 
Government overreach was a top concern among poll participants (30 percent) when asked "What are your top privacy concerns with coronavirus tracking technology?" Data being misused for reasons other than public health and safety was the number two concern with 28 percent of people expressing anti-tracking sentiments. Only 2 percent expressed no privacy concerns. Sixteen percent expressed concern that tracking coronavirus-infected individuals could lead to some type civil unrest.
Fears over coronavirus infections on a Maine island community of 1,200 triggered a group of "vigilantes" to block the driveway of New Jersey construction workers with downed trees. According to a Boston.com report, the group intended to forcibly quarantine the men who had just returned from the mainland and had New Jersey license plates.
Mob mentality aside, 70 percent of respondents argued, a global pandemic doesn't give authorities the right to strip citizens of their privacy, such as location data, health status and other personal indefinable information. Four percent of poll respondents contended that privacy concerns around tracking depends on the individual case.
Tracking Has Benefits, But Enough to Allay Privacy Concerns 
In a series of questions Threatpost asked if tracking was enforced what are your privacy concerns.
The biggest benefits to coronavirus tracking include tracking person-to-person contact histories, which could potentially impose quarantines faster (28 percent), flattening the curve by isolating those who are positive (27 percent) and allowing free movement for those who are healthy (20 percent), expressed respondents.
When asked about their top privacy concerns with coronavirus tracking technology, 30 percent of respondents worried about the government's ability to continue tracking people and collecting personal data after the pandemic ends.
One poll respondent argued he didn't trust the government with personal data because it could create a "slippery slope to a social credit system."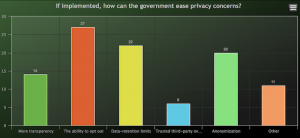 Twenty-seven percent of respondents worried about data being misused for reasons other than public health and safety. Other privacy concerns around tracking apps stem from the inability to opt out (22 percent) or the fact that tracking technology could make citizens turn on each other (16 percent). Two percent of respondents said they weren't worried about privacy.
When asked what tracking data respondents deem "ok" to be collected, 75 percent said they were comfortable with some form of data collected. Twenty-five percent of respondents said they no data should ever be collected.
Of the respondents comfortable with data collection, 20 percent said they were "ok" with logging positive/negative coronavirus statuses. Nineteen percent said aggregated and anonymized real-time location-tracking data was permissible to track, while 10 percent said they were comfortable with presumptive positive status (showing symptoms but not tested) being collected.
Steve Durbin, managing director of the Information Security Forum, who also took the poll, told Threatpost that transparency is "the only solution" for easing privacy concerns.
"The data needs to be collected in an open fashion, with governments being highly explicit in explaining why it is being collected, how it will be used, how it will be protected and how it will subsequently be destroyed post pandemic," he said. "Ultimately we are being asked to trust our governments in their ability to handle personal information and some have better track records than others when it comes to being trusted."
Future of Tracking
When asked if mass surveillance of U.S. citizens will be effective in ultimately slowing infection rates, 50 percent polled said that while this type of technology seems efficient, there are other ways to stop the spread.
Meanwhile, 22 percent contending that the world needs a healthy combination of tech solutions to help flatten the curve, and 8 percent agreeing fully that tech-based solutions would be effective. And 20 percent more were "unclear," saying tech solutions for tracking the virus that also have strong privacy protections may not provide enough useful information to make a difference.
"Given the extraordinary nature of the COVID-19 pandemic, I do believe, that in this case, public health does outweigh privacy," Thomas Hatch, CTO and Co-Founder at SaltStack, who responded to the poll, told Threatpost. "But my main concerns revolve around who has access to this data. For data sent to government agencies, and the ability to have the data stream shut down when we emerge from this crisis, this would be acceptable. But allowing this type of data to be owned by private corporations is deeply questionable."

Do you suffer from Password Fatigue? On Wednesday April 8 at 2 p.m. ET join Duo Security and Threatpost as we explore a passwordless future. This FREE webinar maps out a future where modern authentication standards like WebAuthn significantly reduce a dependency on passwords. We'll also explore how teaming with Microsoft can reduced reliance on passwords. Please register here and dare to ask, "Are passwords overrated?" in this sponsored webinar.