Outraged over the latest Facebook privacy flap, half of users polled Tuesday promise to un-friend the social network. We have heard this refrain before.
It seems almost weekly now some new dirt about the social media giant's misuse of consumer data is revealed. Recently, there was the collection of call logs and texts of Android app users. Then Facebook was called out for using "exploitative design choices" in an effort to circumvent GDPR rules and prompt users to share as much data as possible. The most recent scandal was reported Tuesday by the New York Times. After reviewing internal Facebook documents it found the company has partnerships with more than 150 companies who are allowed to access user data – including in some cases private user Facebook direct messages.
A Threatpost poll of over 350 respondents conducted Wednesday found that 85.05 percent of respondents don't think the value they receive from Facebook outweighs privacy worries.
However, the next steps for the social media platform – and whether the continual invasions of privacy actually drive users from its platform – remains to be seen.
Of those who are disillusioned with Facebook's value of their privacy, respondents are split about the next steps. While 45.98 percent of Facebook respondents to our poll said they plan to drop the platform immediately, 41.07 percent said they are not sure what a good substitute would be.
"I think we're at a crossroads…. We saw lots of activism around privacy this year which I think is good… but people's actual behavior is not where they've actually stopped using these services or making their information available," said Corey Thomas, CEO of Rapid7 in an interview with Threatpost.
According to Facebook, it had partnerships in place with several companies since 2010 – including Apple, Amazon, Microsoft, Spotify and Netflix – allowing these companies to access users' data, including names, friends' profile information, and even private Facebook messages.
Facebook users are expressing outrage once again over the current revelation. Up to 81 percent of those polled said that they are "very concerned" about how Facebook treats their personal data, and that they don't like companies using their data without consent.
In fact, after the Cambridge Analytica scandal broke earlier this year, efforts to delete the platform have continued, with business leaders, from Elon Musk to Whatsapp co-founder Brian Acton joining in on a #DeleteFacebook campaign via social media against the company.
Despite that, users don't seem to be fleeing Facebook. According to Statista, as of the third quarter of 2018, Facebook had 2.27 billion monthly active users, up from 2.23 billion in the second quarter of 2018.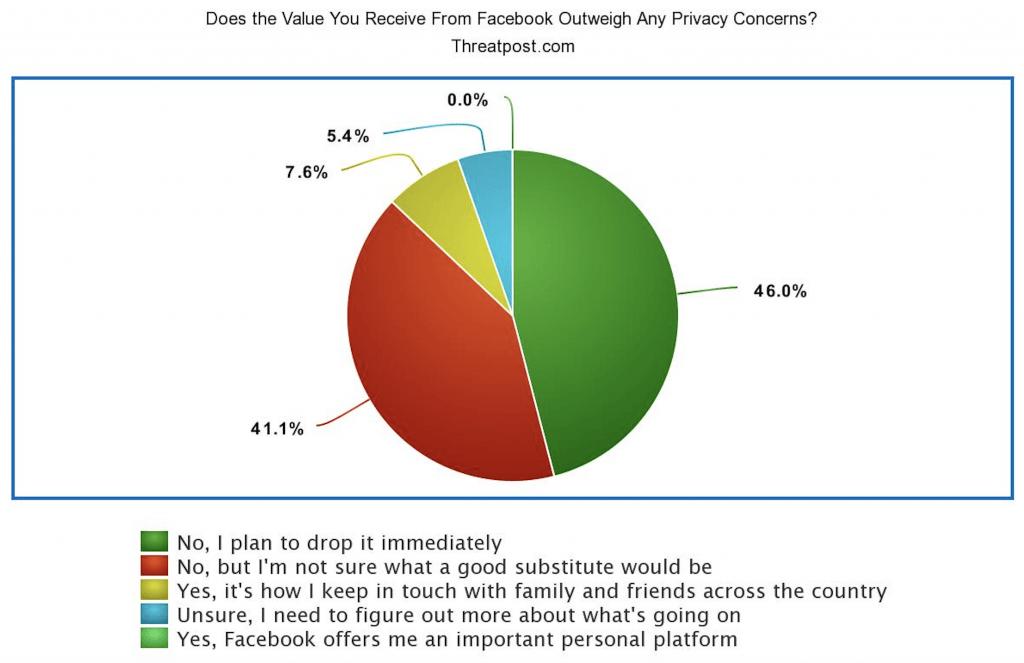 Meanwhile, up to 36.5 percent of Threatpost poll respondents said lawsuits going after Facebook and others if they misuse data would be the right answer.
Facebook has already faced several lawsuits on the heels of the Cambridge Analytica matter – in fact, the month  after the security incident was disclosed, Facebook was slapped with four lawsuits, including from a user in Maryland who said the platform improperly gathering her personal data without permission; as well as investor Fan Yuan who said Facebook failed to disclose details about third-party access to data.
These lawsuits have continued; and just on Wednesday, Washington, D.C., Attorney General Karl Racine filed a lawsuit against Facebook, accusing it of far-reaching privacy violations.
"Today's lawsuit is about making Facebook live up to its promise to protect its users' privacy," Racine said in a tweet.
Today's lawsuit is about making Facebook live up to its promise to protect its users' privacy.

We are seeking an injunction to ensure Facebook puts safeguards in place to monitor users' data and to make it easier for users to control their privacy settings.

— AG Karl A. Racine (@AGKarlRacine) December 19, 2018
Not all see lawsuits as the answer. Up to 39.89 percent of users polled said that Congress should pass privacy regulations to govern the way social media companies handle data.
"You may have some companies fall from grace, but I don't know whether the core trend from a consumer perspective is actually telling us that people are willing to change their behavior," Thomas said. "I think governments will need to come in with attractive proposition to regulate companies to protect your information, and I think people will support that."
Indeed, when Facebook CEO Mark Zuckerberg appeared before Congress in April, politicians stressed the need for regulation to secure end users' data privacy on social media platforms.
Currently, a Federal Trade Commission consent decree from 2011 requires the social network to receive explicit permission from users in regards to sharing their data with third parties.
The FTC in March announced it is launching an investigation into Facebook's data privacy practices after the Cambridge Analytica scandal. Facebook could rack up to $40,000 in fines per violation if found guilty.
The FTC and Congress also have a responsibility to continue asking the difficult questions around data security on social media, said Lina Khan, director of legal policy at Open Markets.
"The Facebook problem is a market power problem," said Khan. "The hearings revealed that members of Congress are still coming around to recognize this reality, but the good news is the we already have a host of tools for fixing Facebook. The FTC should immediately get to work, and if it fails to do so, Congress must step in."