Websites that use the Internet domain registrar and web hosting company Go Daddy were knocked offline earlier this afternoon in what appears to have been a distributed denial of service (DDoS) attack executed by a member of the hacktivist group Anonymous.
Go Daddy tweeted about the outage shortly before 2 p.m. Monday, informing its customers it was aware of the troubles they were having with their sites and followed up around 3 p.m. that the company was "working feverishly" to resolve the issue. The company later tweeted around 4 p.m. that it had restored some service but was still working on the issue and making progress.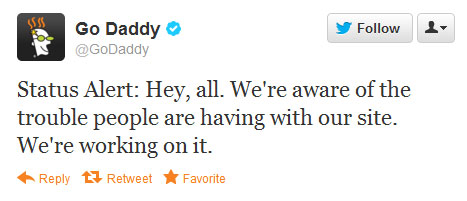 A report on TechCrunch claims that in addition to any site hosted on Go Daddy's DNS service, users of Go Daddy are complaining that their emails are also offline, along with the company's phone service.
A Twitter user purporting to be the "security leader" of the hacktivist group, @AnonymousOwn3r, is taking credit for the hack while another Twitter account used by the organization, @AnonOpsLegion, has also chimed in, endorsing the attack.

A subsequent tweet by the group claimed that by "supporting Godaddy, you are supporting censorship of the Internet," provoking speculation over whether the outage was a delayed response to Go Daddy's public support of the Stop Online Piracy Act (SOPA) and Protect IP Act (PIPA) bills earlier this year.
The @AnonymousOwn3r Twitter user wrote "when i do some DDOS attack i like to let it down by many days, the attack for unlimited time, it can last one hour or one month," reagrding the attack earlier this afternoon.
The popular web host supports more than 52 million domain names and according to a recent profile on Datacenterknowledge.com, has more than 23 petabytes of data in its Scottsdale, Ariz.-based storage centers.