Google has removed nearly 600 Android apps from the Play Store for serving up obnoxious, invasive ads that aren't easily "x'd" out of. The internet giant said the enforcement action was a strike against mobile ad fraud.
Google said Thursday that the apps violated its disruptive ads policy – and are therefore also banned from Google's ad monetization platforms, Google AdMob and Google Ad Manager.
One of the violating behaviors comes in the form of serving up "out-of-context ads" – where users are bombarded with ads in places and at times that they don't expect. Free apps are often monetized by showing ads in-between levels on a game, for instance, or between menu areas – while users are actively using an app.

However, many of the offending apps flagged by Google were found to be showing random, intrusive ads even when the apps weren't being actively used. Or, if the user attempts to exit the app and navigate to the home screen, the expected flow is instead interrupted by an ad.
Other things that Google considers foul play include commercials that impair or interfere with the usability of device functions – for instance displaying a pop-up that prevents the user from accessing anything else on the phone and which doesn't go away even if the app is closed down.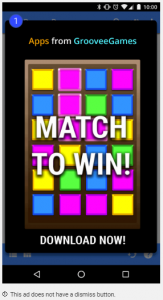 "Imagine being unexpectedly served a full-screen ad when you attempt to make a phone call, unlock your phone or while using your favorite map app's turn-by-turn navigation," said Per Bjorke, senior product manager for Ad Traffic Quality at Google, in a posting on Thursday. "Malicious developers continue to become more savvy in deploying and masking disruptive ads."
Some of the apps also violated Google's "disallowed interstitial" policy. These again can only be shown within the context of the app itself, and they must be able to be easily dismissed without penalty.
"As consumers become less tolerant of poor user experiences, platforms are starting to more tightly enforce their policies for acceptable ads and content," said Cory Schnurr, head of marketplace innovation for The Media Trust, via email. "What was once treated as a recommendation is now becoming a requirement that publishers are demanding from their upstream partners. The recent Google action is just one in an increasing stream of actions undertaken by both websites, mobile apps and the platforms that distribute content to ensure the ads they serve comply with various security, data and creative quality policies. These actions reflect a strategic shift that prioritizes long-term user relationships over short-term advertising revenue."
Bjorke said that Google has dedicated teams focused on detecting and stopping malicious developers who create these kinds of ads, as it sees this as an "attempt to defraud the mobile ecosystem" by prompting unintentional clicks from users. This generates invalid traffic and wastes advertisers' ad spends, Bjorke noted.
It has also developed new technologies in-house, he said, including a machine-learning based approach to detect when apps show out-of-context ads.
"Mobile ad fraud is an industry-wide challenge that can appear in many different forms with a variety of methods, and it has the potential to harm users, advertisers and publishers," Bjorke said. "As we move forward, we will continue to invest in new technologies to detect and prevent emerging threats that can generate invalid traffic, including disruptive ads, and to find more ways to adapt and evolve our platform and ecosystem policies to ensure that users and advertisers are protected from bad behavior."