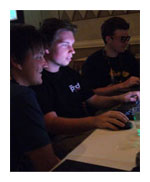 The U.S. and other advanced nations face a drastic cyber security skills gap. Attacks from sophisticated and unsophisticated attackers are on the rise, even as more and more companies and government agencies move more of what they do online to Web based services and the cloud.
Of course, the skills gap requires a bottom-up rethink of the way that technology skills are taught at both the primary and secondary level. That's no easy task in a decentralized and highly regulated education system such as the one that exists in the U.S. where resources are addressed more towards basic skill acquisition than to teaching advanced cyber skills. Still, the Obama Administration has put cyber security at the top of its domestic and military security agendas, and there's some evidence of positive change.
Take, for instance, the profile in yesterday's Los Angeles Times of a group of students from Benjamin Franklin High School in Los Angeles who traveled to Maryland to take part in CyberPatriot: The National High School Cyber Defense Competition. The contest, sponsored jointly by Northrop Grumman and the Department of Homeland Security, brings high school students from across the country together to try their hand at protecting cyber infrastructure in real-world attack scenarios.
The six person team from Franklin High School beat out more than 1,000 schools nationwide to advance to the competition by developing the skills necessary to spot anomalous behavior, detect hacker intrusions and secure IT systems, the LAT reported.
The contest asked each team to take part in the kind of "Capture the Flag" contest that is common at hacker events like the annual DEFCON competition. Each team was asked to manage a network of 11 virtual databases and operating systems and earned points by reducing known vulnerabilities of the network, keeping such crucial systems as email and Web servers running, and defending the network from attacks.
"It doesn't matter how secure you think you are," there is always somebody smart enough to sneak through, said William, 17.
Prizes for winning teams included scholarship money, a laptop and dinner with Obama. The bigger prize may be unstated: well-paying jobs at top firms and government agencies. Northrop Grumman told the LAT that it hired a dozen students who participated in last year's competition, and that the defense giant is looking to fill 30 positions this year.
File this one under "hopeful."