Mozilla Corporation is launching a premium version of the Firefox browser that will tout improved security features such as virtual private network and secure cloud storage, according to CEO Chris Beard.
In a Friday interview with German media publication T3N, Beard said that the premium service, with a monthly subscription plan, is currently being developed and will be launched in the fall, potentially as soon as October. Mozilla confirmed the premium service in an email to Threatpost but did not detail pricing, availability or any features.
"We were founded on the belief that the internet should be open and accessible to all. A high-performing, free and private-by-default Firefox browser will continue to be central to our core service offerings," Dave Camp, senior vice president of Firefox said in a statement sent to Threatpost. "We also recognize that there are consumers who want access to premium offerings, and we can serve those users too without compromising the development and reach of the existing products and services that Firefox users know and love."

Mozilla Corporation is a wholly owned subsidiary of the Mozilla Foundation; While the Mozilla Foundation is a non-profit that runs Mozilla Corporation and "oversees Mozilla's governance structure," the corporation in turn is a taxable entity that handles the revenue-related operations of the Mozilla Foundation.
The subscription service would open a steady new income stream for Mozilla Corporation; currently, around 90 percent of sales for the Mozilla Corporation are coming from royalties earned through Firefox web browser search partnerships – and 10 percent from Pocket, a company that discovers and curates content, according to Beard.
Part of the premium offer could include a virtual private network (VPN) service, according to Beard. VPN, an online service and piece of software that work together to secure users' internet connection against monitoring and eavesdropping, prevents internet service providers from tracking which websites users visit.
That means users could stay secure on a public Wi-Fi if they wanted to utilize tools like online banking, for instance. When asked what a premium offer could look like, Beard told T3N:
"We also tested VPN. We can tell if you're on a public Wi-Fi network and want to do online banking and say, 'Wow, you really should use VPN.' You can imagine we'll offer a solution that gives us all a certain amount of free VPN Bandwidth and then offer a premium level over a monthly subscription. We want to add more subscription services to our mix and focus more on the relationship with the user to become more resilient in business issues."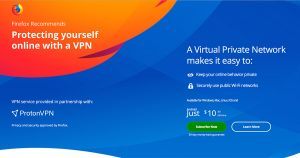 Another potential premium feature could be a secure cloud storage solution, Beard mentioned.
Mozilla has been exploring areas of user demand and testing some service offerings since last year. That includes a partnership with ProtonVPN last year as part of an experimental subscription service (costing $10 a month) to enable VPN for its browser.
While other security enhancements to the premium service are still unknown, the Mozilla Foundation has buffed up privacy measures for the regular, non-premium version of its Firefox browser over the past year. For instance the browser has recently received updates to add security and privacy tools that help with password management and help block sites that track users – such as an "Enhanced Tracking Protection" feature that blocks over 1,000 third-party companies that track online activity and personal information. Firefox has also added other security features in the past – including blocking cryptomining scripts and a browser's digital fingerprints.
Ransomware is on the rise: Don't miss our free Threatpost webinar on the ransomware threat landscape, June 19 at 2 p.m. ET. Join Threatpost and a panel of experts as they discuss how to manage the risk associated with this unique attack type, with exclusive insights into new developments on the ransomware front and how to stay ahead of the attackers.