The dollar-value of online criminal activity conducted by the Russian mafia and other criminal organizations doubled in 2011, according to a new report from the Russian security firm Group-IB.
The global cyber crime market was worth $12.5 billion in 2011, the report claims. Russian-speaking syndicates controlled a $4 billion share of that market, $2.3 billion of which took place in Russia alone. That's nearly double the $1.2 billion in cyber crime that took place in Russia in 2010, Group-IB reported.
According to the report, Russian criminal syndicates are becoming more organized. In 2011, Russian mafia groups began cooperating with one another by sharing compromised data, botnets, and cashing schemes. In the past, Russian cybercriminal operations were unorganized.
The lion's share of cyber crime profits in Russia are derived from fraud and spam operations valued at $942 million and $830 million respectively. Beyond those, cyber crime and cyber criminal services like anonymization, traffic sales, exploits, malware, and loaders accounted for $230 million. Distributed denial of service (DDoS) attacks accounted for $130 million.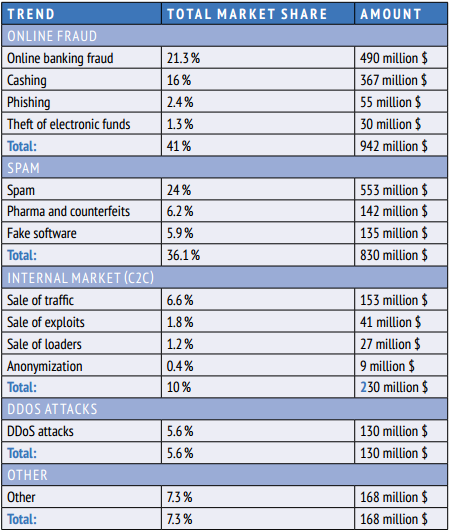 The cyber crime environment is also changing in that the criminals no longer need to be the highly skilled hackers of the past. Cyber crime requires capital investments, the report claims, not specialized knowledge.
Group-IB believes that creating new laws with clear language, increasing penalties for individuals convicted of cyber crimes and improving law enforcement's ability to investigate and prosecute such criminals with better training and international cooperation would help reduce the prevalence of cyber crime in Russia and abroad.
You can read the full report here [pdf], and check out an interesting infographic on the Threatpost Tumblr.