Cybersecurity for multi-cloud environments is notoriously challenging. That makes CloudQuery, an open-source tool built on the principles of OSquery, an attractive cloud security option.
Just as OSquery helps security teams identify attacks on the thousands of machines used across a company's campus, CloudQuery – an OSquery extension – delivers the same for the cloud and multi-cloud infrastructures.
In this on-demand Town Hall, sponsored by Uptycs, Eric Kaiser, Sr. Security Engineer at Uptycs, discusses how CloudQuery can help ground your cloud-security playbook.
Hosted by Threatpost's Becky Bracken, the session covers the basics of the open-source OSquery project, and will introduce CloudQuery and KubeQuery – two open-source extensions to OSquery.
Kaiser will also provide examples of investigative workflows, using telemetry from cloud-based hosts and cloud infrastructure.
In this session, attendees will learn:
The basics of OSquery , CloudQuery, and KubeQuery — powerful, open-source tools that normalize security telemetry from hosts, containers and the cloud
How these open-source tools can help implement standards such as the CIS Benchmarks for AWS, Azure, and GCP
Examples of how blue teams and auditing teams can use these tools to identify risk and detect threats in cloud and container environments
This on-demand session provides an introduction to OSquery, then focuses on how to get started using CloudQuery. Learn to leverage SQL-based analytics to probe AWS, Azure and Google Cloud Platform environments for security and compliance insights, too.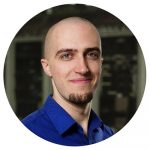 Eric Kaiser, Sr. Security Engineer, Uptycs
Kaiser is a Security Engineer at Uptycs, focused on endpoint and cloud security. He has a deep passion for system-level security, and in his spare time is an amateur motorcycle rider and mechanic, a runner and an avid traveler.
(Interested in learning more about how your company can get involved with Threatpost webinars? Contact advertise@threatpost.com to learn more about Sponsored and Underwriting opportunities.)