It's open season on online shoppers. Petty cybercriminals, nation-state backed groups and every flavor of malicious actor in between are working harder than ever to steal banking information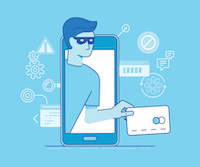 from both web and app-based digital retailers. And as COVID-19 has continued to drive shopping online, the stakes are being ratcheted up every day.
Magecart is a prime example of the once-humble skimmer scam going global, hitting up to 10,000 customers and counting and even inspiring its own sniffer "credit card" to find new targets. And new targets seem easy to find. City websites with payment software, mom subscription box service Fab Fit Fun, and even teeny bopper accessory haven Claire's have all recently fallen prey to Magecart skimming scams.
What's coming next?
This webinar is for security professionals on the lookout for the latest threats. Threatpost will talk to experts about the top security protections for retailers including secure configurations, vulnerability management and get expert tips on how to spot a malicious actor before it's too late.
Interested in exploring Threatpost's archive of on-demand webinars? Please visit our Webinar Archives.