By 2022, 2 million cybersecurity positions globally are projected to be open, even as the threat landscape accelerates and becomes more complex. To meet this growing workforce shortage, women are a crucial, largely untapped reservoir of talent that businesses should be courting.
In this Threatpost webinar, Threatpost senior editor Tara Seals welcomes Boston University's Cynthia Brossman, the architect behind BU's summer programs aimed at attracting bright girls and young women to the cybersecurity and computer science fields.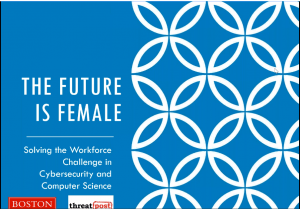 Join them for a discussion on expanding female representation in cybertech (it stands at just 14 percent in the U.S. today), including why women are such a crucial piece of the cyberworkforce puzzle.
To view this past webinar, The Future is Female, please follow this link (registration required).